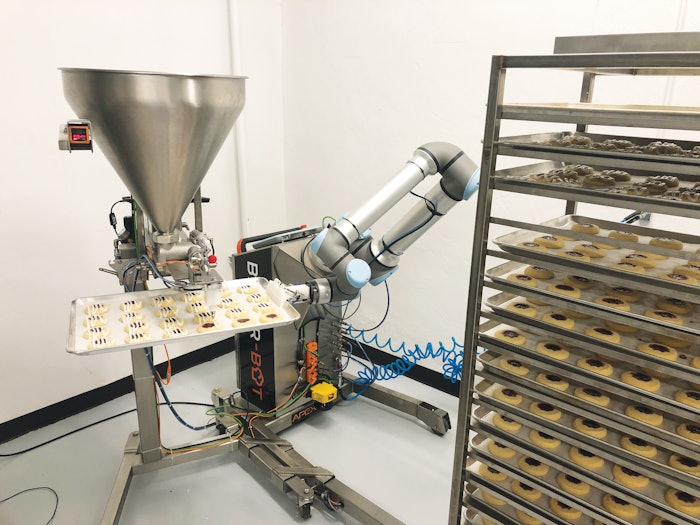 Photo courtesy of Noms Bake Shop.
Noms Bake Shop is in the midst of a growth spurt. The growing demand for its gourmet cookies prompted the Tempe, Ariz.-based upstart to take its operations to the next level by installing a collaborative robot that applies icing consistently and quickly to the sweet treats. The company credits the cobot for boosting throughput and efficiency on its production line while easing the aches and pains of its cookie decorators.
Since it was founded in 2015, Noms has grown 350% year over year selling premium cookies online in the corporate gifting sector. The family-owned company offers about 15 permanent and seasonal cookies, including brown sugar banana, chocolate crinkle (a mashup of a brownie and cookie), and peanut butter and jelly. The cookies are shipped nationwide in high-quality cardboard boxes with magnetic closures or deluxe wood boxes with sliding lids that can be customized with logos, graphics, or personal messages—a premium twist on traditional baked goods that differentiates Noms from other cookie manufacturers in the corporate gifting category, according to co-owner and CEO Trevor Martin.
To prepare the company for expansion, Martin has been automating parts of Noms' manufacturing facility in Phoenix to eliminate production bottlenecks in making 10,000 cookies a day. In addition to installing new roll-in rack ovens and dough depositors, Noms purchased a cobot from Apex Motion Control called the Baker-Bot for icing its berry shortbread and lemon poppy seed cookies with speed and precision.
Growing pains
Both the berry shortbread and lemon poppy seed cookies are drizzled with icing in a curvy zig-zag pattern in one continuous swirl, a signature element featured in the Noms logo. Prior to using the Baker-Bot, 10 employees squeezed piping bags to ice each cookie by hand. But icing thousands of cookies a day caused pain and discomfort for the workers' backs, hands, and wrists. As a result of the body strain, the workers could apply icing to only 5,000 cookies a day—half the amount of product the plant produces daily. The next morning employees had to finish icing those remaining 5,000 cookies from the previous day, wait for the icing to dry, and package them before moving on to carry out the production process scheduled for that day. The ergonomic pain got so dire that workers frequently called in sick when they were slated to ice the berry shortbread or lemon poppy seed cookies.
"We typically have 10 people on shift, and each ices 1,000 cookies. When someone calls out, that only amplifies the problem," Martin says. "If two people don't show up, now those eight people have even more to do in the same amount of time. So by adding robotics to automate the icing process, we've solved the problems with production and staff pain."
Installed in November 2019 at Noms, the Baker-Bot plays a critical role in increasing production efficiency. After the berry shortbread and lemon poppy seed cookies are baked and cooled, a worker rolls a rack with 20 trays of cookies to the Baker-Bot. He or she fills the hopper with icing and then selects the icing design programmed in the human machine interface, which also includes the specs of the rolling racks and trays. From there, the cobot operates autonomously. Equipped with a 10 kg payload capacity, the robotic arm pulls a tray lined with 24 cookies from the rack and places it underneath the piston filler nozzle, where a camera sensor is located. The cobot uses the camera images to determine where each cookie is located in the tray. The robotic arm moves the tray back and forth and side to side under the piston filler nozzle, which dispenses a precise application of icing to each cookie. Once the entire tray of cookies is decorated with icing, the robotic arm loads the tray back on the rack and pulls the next tray of cookies out of the rack for icing.
Speedy results
The Baker-Bot ices a full rack of 480 cookies in about 40 to 45 minutes, averaging about six seconds a cookie, according Martin. "Our fastest bakers can ice a rack of cookies right around the same time, but they would also have to take breaks after four or five trays, which could add 20 minutes to the icing process [per rack]," he says.
Currently Noms is using the cobot to only ice 5,000 cookies during an eight-hour shift, while five employees ice the remaining 5,000 cookies during that shift. Because only half the number of workers are now needed to ice cookies, Noms can rotate employees to ensure they are not icing cookies every week. This has helped to ease their body pain and discomfort, reduce employee absenteeism, and prevent bottlenecks in the production process, according to Martin. "We only need half the amount of people icing, so we switch them every week to other tasks in the plant," he says.
Noms eventually plans to have the Baker-Bot ice all 10,000 cookies that require icing. Because the COVID-19 pandemic has limited Noms' operational hours, the company is currently only running one eight-hour shift a week that uses the Baker-Bot. In August, the company plans to extend the shift of the Baker-Bot to 10 hours a week. Once the coronavirus crisis is over, Noms will add two more weekday shifts and institute weekend shifts to the production schedule to take advantage of the Baker-Bot's capacity. "In 16 hours, the Baker-Bot can ice 10,000 cookies without taking a break," Martin says. "That would take 25 hours of staff time."
Another benefit of the Baker-Bot is safety around employees. The cobot is equipped with a scanner that allows Noms to designate safety zones around the cobot. If an employee wanders past those zones, the cobot either slows down or stops functioning altogether and triggers an audible alarm or flashing lights. In addition, the Baker-Bot has servo motors in its joints that are programmed to carry or manipulate a certain amount of weight and exert a specific amount of force. If employees or objects stand in its way, the cobot will recognize that it is exceeding its threshold for force or weight and simply stop functioning. "No one's been hurt at our facility," Martin says. "[Apex] has really gone to great lengths to make sure all the safety precautions are there."
After seeing how the Baker-Bot has enhanced its icing process, Noms is considering other applications for the cobot. For example, the company plans to use the Baker-Bot to launch brownies and bars in the third quarter. It will program the cobot to deposit batter into individual silicone trays in preparation for baking.
"Our plant has the capacity to produce 50,000 cookies a day. We're doing 10,000 a day now. So we've got room to grow," Martin says. "If we're growing at the same rate that we are, I'd say that we'd probably have to purchase another Baker-Bot in the next 24 months."
Here are some other stories about robots and cobots that you may want to read:
Continuous improvement with cobots and remote monitoring
Autonomous Bin Picking and Placing Moves Cobots Into Machine Tending
How to Safely Implement Collaborative Robots
Are You Ready for Operator 4.0?
Cobot Deployment Shines in COVID-19 Pandemic
Robots become more collaborative, intuitive and capable
COVID-19 Brings Increased Visibility to the Role of Robotics
Cobot erects random case sizes on-demand
Learn how your packaging operations could benefit from robotic technology. Download the Packaging Robotics Playbook from Packaging World here.
Companies in this article