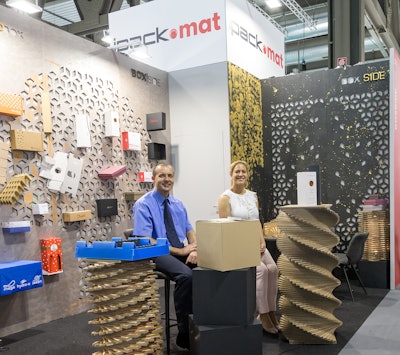 Following its successful debut in 2018, the IPACK-Matproject devoted entirely to innovative solutions in the field of high value-added materials will be back at the 25th IPACK-IMA to be held in the Fiera Milano exhibition centre from 4 to 7 May 2021, further expanding the show's scope and contents.
In a major new development in 2021, the "IPACK-Mat - Packaging Materials for Product Development" project will be expanded and elevated from a special area to a full-scale brand capable of enhancing the identity of all packaging materials suppliers present at IPACK-IMA and MEAT-TECH. This broad-based concept will provide marketing teams in the manufacturing industry with fresh ideas and inspiration for the development of new product lines.
Another highlight will be the IPACK-Mat thematic area in Hall 14, a privileged showcase of innovative materials and eco-friendly packaging solutions linked by the common threads of the green economy, smart packaging and design. This area will host new-generation materials that cater for the needs of ever greater sustainability and rationalisation of the production process, as well as hi-tech packaging capable of extending shelf life and preserving the integrity of products.
These will include outstanding solutions for optimising production processes, such as tough and flexible corrugated cardboard for packaging special goods, ideal for e-commerce applications, monomaterial barrier films, high temperature-resistant cellulose containers and the labels of the future.
IPACK-Mat is reaffirming its partnership with CONAI, one of Europe's largest consortia with more than 800,000 member companies that produce or use packaging. In its exhibition space, the consortium will be organizing initiatives aimed at encouraging the industry to invest in production processes inspired by the principles of the circular economy.
The 2021 show will also feature "Ipack Ima Lab - Solutions for Product Testing & Certification", a new IPACK-Mat exhibition section organised in collaboration with the Italian Institute of Packaging. This new section will host laboratories and certification and research institutes specialising in quality and conformity checks for FCM regulations on materials and objects intended for food contact.
IPACK-IMA is intensifying its collaboration with the Italian Institute of Packaging with the aim of promoting innovation in the packaging industry and will be the main partner of the Best Packaging Awards 2020 and 2021, with the celebration of the 2021 winners during the show itself.