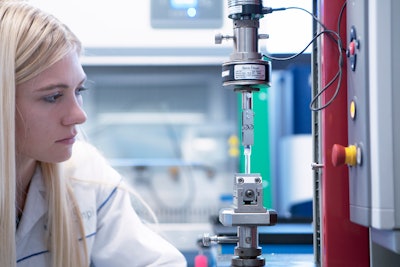 Italy-based Stevanato Group, a leading producer of glass primary packaging and provider of integrated capabilities for combination products, has broken ground on a new Technology Excellence Center in Boston. The new site will further enhance the company's presence and prominence in the US biopharma drug development landscape.
Among the fastest-growing entities in the US biopharmaceutical industry are small biotech companies, which are primarily located in major metropolitan areas including Washington, D.C., Philadelphia, New York/New Jersey, Chicago, San Diego, the San Francisco Bay Area and, of course, Boston. With intentions to meet their emerging needs, Stevanato Group plans to open its Technology Excellence Center (TEC) in the second half of 2020.
The TEC will be located in the Boston's Seaport District, and has already been toured by Stevanato Group CEO Franco Stevanato. In a kickoff meeting, he discussed construction plan services with Abizer Harianawala, the US TEC site leader, Howard Drake, Vice President Business Development and Relationship Management in the US and members of the infrastructure and laboratory team.
The TEC will initially provide analytical and testing services related to container closure systems and drug delivery devices, complemented by customized services for biopharma companies' drug formulation and manufacturing processes. The facility will incorporate successful research originally performed at the SG Lab in Europe. By teaming up with a network of partners, the Boston TEC plans to incrementally add more capabilities, eventually providing a comprehensive portfolio of services concerning drug lifecycles, including R&D, project management and regulatory support.
"The center will initially have a highly skilled team in the area of primary containers, which will be able to help customers in the choice of the best container for their drug. It will also feature a lab performing critical analytical tests for characterizing the container closure system. In the coming years, customers will find in TEC all the competencies also for the drug delivery devices, and in general will find in Stevanato Group a competent partner always listening and looking for solutions," says Paolo Patri, Chief Technology Officer at Stevanato Group.
"TEC is a big step forward in the vision of the Group as a full solution provider. Thanks to it, we will be able to work together with the developers of new molecules at an early stage or in Phase I. We will offer them all our capabilities in terms of glass primary packaging knowledge and delivery devices, in a partnership that will go beyond our traditional role of suppliers," says Franco Stevanato.
The SG Technology Excellence Center represents an important milestone for Stevanato Group to support the growing biotech market in the US. It will be providing analytical and testing services to assist drug development and commercialization, as well as lifecycle management. The TEC also will provide global regulatory support related to all areas of container closure systems.