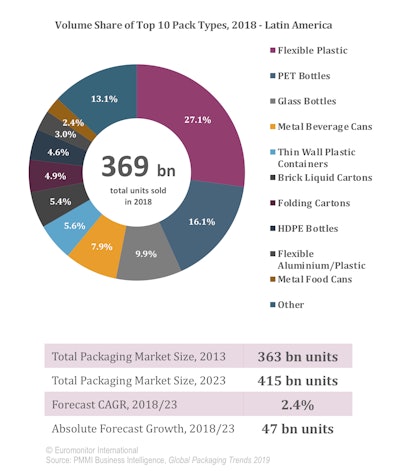 According to "Global Packaging Trends," a new report compiled by Euromonitor International for PMMI Business Intelligence, Brazil is the largest packaging market in Latin America, with an expected 17.7 billion unit absolute volume growth by 2023 and approximately 40% of the region's total sales. With an emerging middle class that makes up more than half of the population, consumer spending in Brazil maintained momentum even during the economic slowdown.
Flexible plastic is the most used packaging in Latin America's food industry, and confectionery, bakery, and pasta are thought to offer the best volume growth opportunities until 2023, at 8.6 billion units. Confectionery and savory snacks - the leading applications for flexible plastic – have pack type sizes ranging from below 5g to over 2.5kg. The smallest pack sizes, suitable for impulse purchases and on-the-go consumption, will drive the strong growth forecasted in these categories.
PET leads in beverage packaging in the Latin American markets, due to a versatility that is attractive to both manufacturers and consumers. Manufacturers prefer PET bottles because of their lightness, high shatter resistance, recyclability, and a cost effectiveness that helps reduce production costs. Consumers choose PET bottles because they are resealable and easily portable.
Beer packaging was the leading category in Latin America, with an expected 7.4 billion unit absolute volume growth by 2023. Glass bottles are the dominant packaging type, and the increased sales of craft and other premium beers helped to drive growth, as did returnability. Breweries are also betting on small pack sizes to control the retail price point, with the bulk of unit volume growth coming from 350 ml and 269 ml beverage can formats and 300 ml glass bottle size. Sales of multipack metal beer cans are exhibiting strong growth in Brazil and Mexico, however, as 12-packs and 18-packs dominate the multipack beer market in Brazil, and the 6-pack is dominant in Mexico.
In non-alcoholic drinks, consumers are beginning to demand convenience packaging such as single-use plastic and multipacks of thin wall plastic containers and liquid cartons in small sizes. This demand for convenience and smaller pack sizes threatens traditional returnable beverage bottle packaging and also polarizes against the value-trend of very large pack sizes.
Spotlight:
In Brazil, metal beverage cans that are easier to transport and less breakable than glass bottles (resulting in lower distribution costs) remain an important beverage packaging type. In 2016 Brazil was the global leader for metal beverage can recycling.
In Mexico, beverage glass bottle growth is expected to register a CAGR of 3.6% from 2018 to 2023. Price-sensitive consumers have fueled the demand for returnable bottles and in 2017, beer, the largest alcoholic drink in terms of packaging volume, led in the share of returnable bottles sold with 55% of all glass-bottled beer being returnable.
Latin American brands are using packaging designs and labels to highlight their values and better connect with consumers. In 2017, Cia Brasileira de Bebidas launched metal beverage cans in different skin tones, emphasizing that people are the same inside despite being different on the outside. They also launched a metal can featuring the colors of the gay pride parade to emphasize its support for the movement.
New packaging technologies such as MAP (modified atmosphere packaging) are rising as consumers demand products with minimal processing and greater transparency.
Flexible plastic remains the most versatile packaging format – used from salty snacks to laundry detergents. Ease-of-use, and optimized-consumption enables users to utilize almost 100% of the content.
Multipacks are being offered on complementary products such as liquid detergents and multi-purpose cleaners, where the original product is packaged with a trigger closure and another refill option in stand-up pouches.
Source: "Global Packaging Trends," Compiled by Euromonitor International for the Packaging Machinery Manufacturers Institute (PMMI). PMMI Members can download the full report for FREE, here.
Australian Packaging & Processing Machinery Association (APPMA)
PMMI, The Association for Packaging and Processing Technologies
UCIMA, Italian Packaging Machinery Manufacturers Association
Symop, French Association for Manufacturing Technologies
Make plans to visit PACK EXPO Las Vegas, September 23-25, to see on-trend packaging machinery and materials.
Read more about this report on our Spanish-language site Mundo.