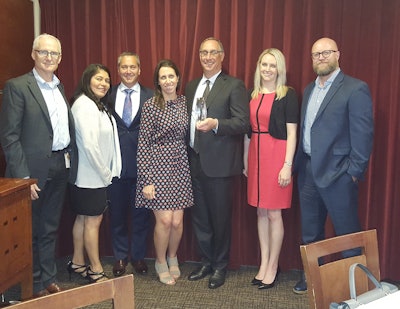 WWP, a provider of cosmetic packaging components, tubes, and full-service turnkey systems, has been named 2018 Packaging Supplier of the Year by cosmetics mainstay Mary Kay. The honor was bestowed during Mary Kay's annual awards luncheon at its Addison, TX headquarters on June 18.
WWP has been providing Mary Kay with both components and tubes since 2008, and has played roles in expansive, high-profile projects such as Mary Kay's TimeWise Miracle Set 3D and TimeWise Foundation.
Nominees for Mary Kay's annual awards are chosen based on performance, value, flexibility, sustainability systems, and ability to execute successful projects. In addition to traditional KPIs such as best-in-class quality, service and cost, the company seeks out suppliers that exhibit true partnership, meaning award winners must receive high marks from a cross-functional group of Mary Kay executives.
"Innovation, sustainability and partnership are a large part of Mary Kay's supply chain success, and WWP holds those as core values," says Deb Gibbins, chief operations officer with Mary Kay. "WWP consistently displays the ability to deliver quality products on time and with adaptability to meet our business and sustainability goals. We're proud to name them our 2018 Supplier of the Year."
A final factor in WWP's award win was infrastructure: WWP commits to investing in new product development opportunities and process improvements to help manage projects and high-volume production, leaving little doubt about whether it can handle complex, large-scale projects.
"We're very honored to receive this prestigious award from a valued client such as Mary Kay," said Barry Freda, CEO of WWP. "WWP takes great pride in the relationship that has been established over the years, and looks forward to continuing to provide our customers with the highest quality of designs and innovation."
Companies in this article