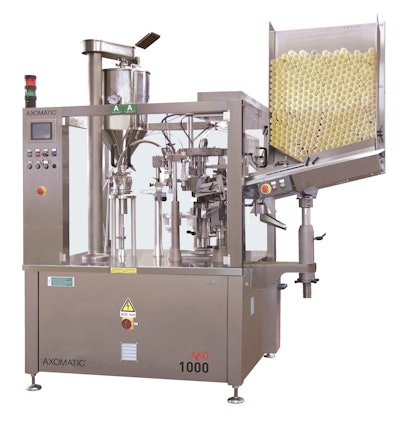 This content was written and submitted by the supplier. It has only been modified to comply with this publication's space and style.
At the tradeshow in Nuremberg the Group arrives just back from the presentation of its AI - Artificial Intelligence event held last April, in which its Industry 4.0. program was presented to an audience of 600 customers from all over the world. Fachpack presents itself as an excellent opportunity to present the Group's AI program for the first time on the German market.

Marchesini's galaxy will present also two new stars at the trade fair: Axomatic, a gem of the "Made in Italy" packaging industry and manufacturing specialist of cosmetic packaging machinery, and V2engineering, a specialised cartoning machine producer.

Axomatic (Hall 3 - Stand 629) will be exhibiting a tube-filler, series Axo 1000, for filling and sealing plastic, laminate or aluminium tubes, which can process 80 pieces per minute.

Axo 1000 will be connected to a 10-litre vacuum mixer, series Axomix, which is designed and built to produce emulsion, cream, milk, gel and balm products as well as toothpaste and much more.

V2engineering (Hall 3 - Stand 633) will be showcasing a horizontal cartoner, model V106N, which is capable of processing 100 cartons per minute, plus a cellophane wrapper, V122, made to wrap small and medium sized products. The compact layout and ergonomic constructional design with balcony structure make these machines extremely flexible and perfect for the cosmetic, pharmaceutical and food industries.

Both V2engineering and Axomatic have been taken over by Marchesini with a majority share without altering its productive processes and reference partners. On one hand, they will continue to manage their customers, projects and products independently, according to their consolidated in-house dynamics. On the other, in view of its majority shareholding, Marchesini will supervise the organisation and commercial activities of Axomatic and V2engineering, which will however maintain their well-tested corporate set-up to rapidly, straightforwardly and flexibly meet the typical requirements of cosmetic customers.