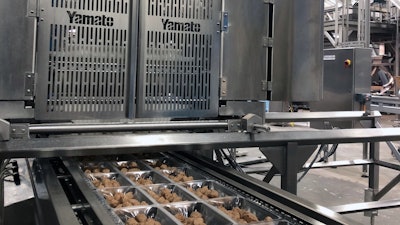 Protein is the center of the production bullseye for Sugar Creek Packing Company, a Cincinnati-based co-man/co-pack that serves both retail and foodservice industries, mostly for brands or in-store private label. Bacon was the core competency upon which the company was founded, but in the last five years, it has expanded to include a range of meats, mostly ready-to-eat, including a line of meatballs. Sugar Creek now operates six manufacturing and packaging facilities with four in Ohio, one Indiana, and another in Kansas.
It stands to reason that in the thin-workforce era, these past five years of expansion must've relied heavily on automation. But Alex Hauck, VP, Engineering, at Sugar Creek, says that shift has been slow largely due to the artisan culture and variability inherent in proteins.
"I would say in the last three to four years we've become more automated," he says. "Our industry traditionally didn't lend itself to a lot of automation, but there definitely have been advances in the last several years and we've strategically taken advantage of those opportunities. It's just with the way the labor force is these days, you really have to get into more automation. Investment in automation definitely is worthwhile, the ROI is there for sure."
Demonstrating this shift away from hand labor and toward capital investment in machinery, Sugar Creek's Indiana plant features a pair of packaging lines specializing in vacuum-packed frozen (IQF) meatballs that are destined for big brand distribution.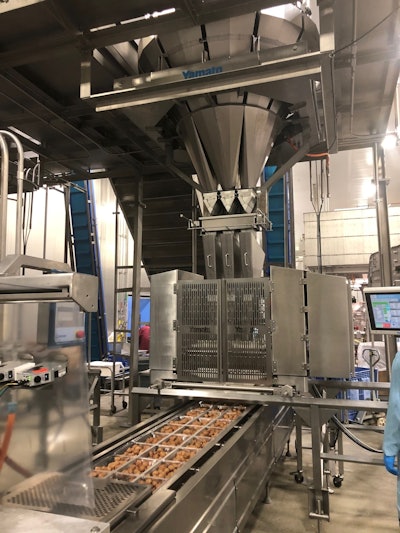 Decision factors in scale upgrade
When the company first relocated meatball production to the Indiana plant, Hauck says Sugar Creek dabbled at automating for some time, but with marginal success. Originally, the Indiana line scaled and loaded meatballs into thermoformed trays (or pockets) which were then vacuum sealed. The setup included two mirrored lines, each including a legacy scale, a legacy depositor, and a
Multivac thermoforming machinery
system.
"And when I say dabbled at automating, I mean we did scale the product automatically, but it was rather inefficient. We often had to supplement the automation with operators who, in some cases, would literally hand weigh the product and hand feed it into each thermoformed pocket before it was sealed," Hauck says.
Tim McDermott, packaging engineer at Sugar Creek, began looking for new combination scales to replace the legacy scaling and depositing, and eventually landed on a Yamato combination scale solution that would seamlessly integrate with the thermoforming machinery. Using this new scale, Hauck says they had an opportunity to right-size the scales, take advantage of some newer technology, and also use the scales' automatic depositors to automatically fill the thermoformed Multivac pockets under the depositor and scale.
"That depositing system was a big factor in our decision," he says. "Two [Yamato] reps came out and talked to us about the depositor, how it worked, and its sanitary design, which is very important in a meat facility. These particular scales are in a ready-to-eat food production room, which for us has the highest level of scrutiny as far as sanitary design. We liked Yamato's methodology around correctly sizing a scale, selecting the depositor that would best fit, showing us how they would fit together, and demonstrating how they can be removed for cleaning and maintenance. A lot of those factors went into our decision. The price was competitive—I wouldn't say it was the lowest price, but it was certainly competitive."
Hauck also mentions that prior to this installation, Sugar Creek had one (though only one) Yamato scale at the Kansas facility, one operating in a different packaging capacity. But it was working well enough to get noticed. Sugar Creek did solicit bids from various scale manufacturers, but confidence in Yamato certainly weighed heavily.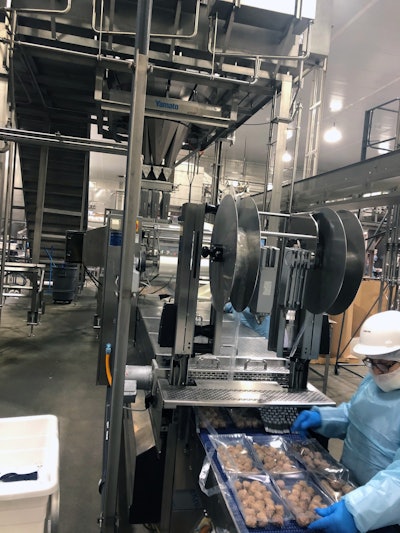 Results
Labor reduction was the first noticeable benefit after installation, but throughput improvements also made an impression. Prior, Sugar Creek's meatball lines were over-staffing the packaging machine, and they achieved only half the rated throughput of the packaging machine.
"Since we added the scales, our staffing is much more in line with how we are supposed to be," he says. "There is one person to replenish film. I'd say across two Yamato and Multivac systems, now we have one operator and we're achieving the rated throughput of the packaging machine."
In an unintended benefit, the tolerance of the scales was so improved over existing equipment or hand labor that Sugar Creek also achieved a yield increase. The scales are able to select the precisely correct combination of meatballs in every pocket, meaning giveaway has gone down to within a 0.5% threshold. Previously, that number was in the 7% range.
"I wouldn't say we were running up immediately but within two weeks we were hitting full cycle, which for an automation project is doing very well. We've had other instances where that has taken months to fully dial in and in this case, Yamato was great working with us, their service was there."
Current lines and what's next
To feed each of the combination scale systems, an incline conveyor carries the flash-frozen meatballs from upstream processing to a mezzanine level. There, a vibratory conveyor, programmed to work in conjunction with the Yamato combination scales, feeds them both and provides product only as each of the scales calls for it.
After primary packaging, the sealed meatball trays pass through an Anritsu x-ray detection machinery and checkweigher system. After that, depending on the product, trays are either case packed for an HPP (high-pressure processing) step, which is done at a separate facility, or a sleeve is applied to the tray in a semi-automated process.
As is usually the case with automation, increased throughput upstream invites—often demands— improvements further downstream. Sugar Creek is close to installing semi-automatic case erectors that will make it simpler for operators to hand-load primary packages to each case as it passes from the erector down a conveyor. The company also has plans in place to automate the full facility with a common palletizing area.
"It's probably worth noting that with this facility, we really have a goal to package directly," Hauck says. "This particular oven line is capable of producing 6,200 pounds of product per hour. It's really important for our packaging to keep up so that we can package directly online and not have to produce WIP and then go back and repackage. With this installation we are in fact able to maintain the speeds that we can pack directly online." -PW
Companies in this article