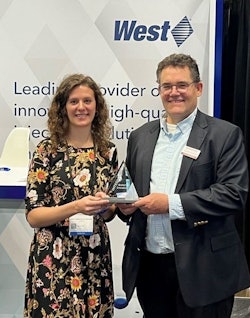 West Pharmaceutical Services, a global leader in innovative solutions for injectable drug administration, received the Biotech Innovation Award for the DeltaCube™ modeling platform at the INTERPHEX 2022 Technical Conference in New York City.
"West is honored to receive an INTERPHEX 2022 Exhibitor Award recognizing the innovation of our DeltaCube modeling platform," said Chris Ryan, senior vice president, containment and glass systems. "By supporting drug development and addressing containment earlier in the process, we can ensure needed drugs get safely to patients quicker. This tool provides a solution for the industry to reduce risk and accelerate development during the early-stage vial container closure system (CCS) selection and usage."
The DeltaCube modeling platform, a secure online vial integrity software modeling platform designed to help developers make more confident decisions about their container closure systems (CCS), uses a big-data approach, built on 90-plus years of CCS and container closure integrity (CCI) experience. The DeltaCube modeling platform provides an efficient and cost-effective tool to guide vial, stopper, and seal combination selection based on fit, and supports the troubleshooting of defects or CCI failures due to component dimensional issues.
Companies in this article