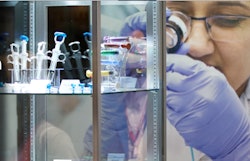 Medical Design and Manufacturing (MD&M) South, the Southeast's most comprehensive medical design and manufacturing event, has revealed an extensive speaker lineup for the upcoming event debut in North Carolina. Senior-level executives from Access Vascular, Angel Capital Association, CreativeCo Capital, Galen Robotics, Medical Murray, PAVmed, and Starfish Medical are among the speakers confirmed to explore the industry's most disruptive technologies, how to improve device speed to market, the state of medtech in North Carolina, and much more.   

Taking place June 14-16 at the Charlotte Convention Center, MD&M South is one of six event brands—Automation Technology Expo (ATX), Design & Manufacturing (D&M), SouthPack, Powder & Bulk Solids (PBS) South, and Plastec South—that comprise IME South.
Among the notable companies registered for MD&M South are Baxter Healthcare, Becton Dickinson, Boston Scientific, Cook Medical, Edwards LifeSciences, Smith & Nephew, Stryker, and more.
Select MD&M South conference sessions include:
Panel: Speed to Market: Tactics for Accelerating Product Development Through to Commercialization
Speakers from: Access Vascular, Medical Murray, PAVmed, and Starfish Medical
This panel will review tangible strategies for accelerating medical device product development, the tradeoffs during development from cost to program risk, and how to ensure that product development decisions facilitate commercialization, and will include case studies of rapidly accelerated programs.
State of Medtech Investment in the North Carolina Region
Speakers from: Angel Capital Association, CreativeCo Capital

Industry experts Marcia Dawood and Ashley Gautreaux will discuss where and how to look for funding in the region and beyond, and what attracts venture capitalists (VCs) to fund certain startups and entrepreneurs, as well as thw important characteristics VCs look for when analyzing a startup's potential, particularly sizable market opportunities, products that address unmet needs in innovative ways, and management talent. Case examples will be shared.

Digital Tech in the OR: How to Plan for SaMD & AI in Your Medical Devices
Speaker: Dave Saunders, Chief Technology Officer, Galen Robotics

How data is collected and used within the surgical suite is transforming care, but it can be done more effectively with the latest technology. AI enthusiast and surgical robotics pioneer, Dave Saunders, shares his perspective on what needs to happen and how hospitals are working with medical device manufacturers, particularly startups, to change how care is delivered.