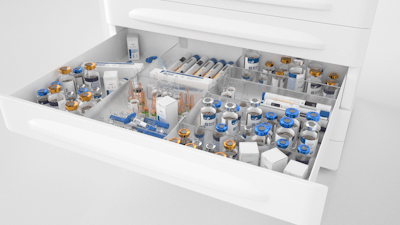 The pandemic has highlighted or magnified all sorts of pros and cons about the healthcare supply chain. One thing has become abundantly clear—it's more important than ever to know your supply levels, locations, and how fast you can move these products.
This means different things to different people. As a life science manufacturer, your concerns may be upstream, with longer lead times for certain packaging components and raw materials—especially resins. For hospitals and health systems, tracking medications from the pharmacy to the crash cart is critical to patient safety and preventing waste in the form of expired drugs. In a recent two-part series, we cover a new offering in the connected packaging space—RFID-embedded vial labels that manufacturers can implement without artwork changes. A manager of pharmacy operations explains why demand for RFID-labeled vials at health systems is increasing, and how RFID may change the world of inventory management and dispensing.
From tracking drugs to components, avoiding shortages is key. As Colgate discovered in the pandemic, they couldn't procure as many soap pumps as they needed, so they quickly qualified a different closure to keep production going. In the story, they also talk in-depth about several exciting new packaging innovations, offering details from e-commerce to recyclability.
Tracking is also critical to ensuring an excursion-free trip for temperature-sensitive drugs. A new entry on the market, Vaccine Pods for ultra-low temperature (ULT) storage and transportation can power freezers off the grid with solar and wind energy, with real-time data visibility into temperature, power system performance, and more.
For more on the packaging innovation front, check out the Flexible Packaging Association's award winners.
Registration is now open for PACK EXPO Las Vegas and Healthcare Packaging EXPO—$30 until Sept. 3, after which the price increases to $130. For more information and to register online, visit packexpolasvegas.com and hcpelasvegas.com.