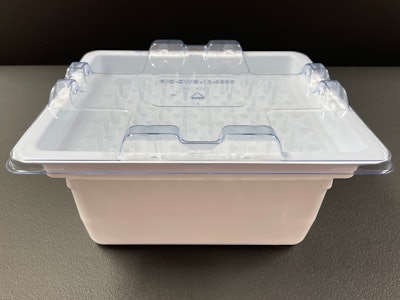 Pharmaceutical companies have not been the only ones scrambling to get the COVID-19 vaccine and testing kits out to millions of people at lightning speed. They may not make the New York Times' headlines, but packaging companies are working in parallel to ensure these critical medical supplies are packaged and transported safely and quickly.
What has traditionally taken several months to design and manufacture healthcare packaging has shortened to just weeks due to the urgency of the pandemic and the universal desire to save lives and return life to normal.
So how do packaging suppliers make this herculean task happen? It requires careful orchestration involving everyone in the supply chain, from design and production to HR and logistics.
Rapid development of test kit packaging
In Dec. 2020, a major healthcare company introduced a new fast-response, at-home COVID-19 test kit that would increase testing availability to the public in an effort to slow the virus. With a commitment to produce millions of kits in just a few short months, the company needed to acquire its packaging very quickly.
---
---
The healthcare company reached out to Prent Corporation with a big request: produce millions of custom plastic tray inserts to hold their kit components, and do it in record time. Prent, a manufacturer of custom plastic thermoformed medical packaging, jumped at the chance to have a positive impact on defeating the pandemic. The key to success was to have multiple departments working simultaneously to avoid any delays in the timeline.
Design and piloting - Design engineer Michelle Rademacher began developing concepts for two different trays: one for kit assemblers using automation and the other for manual kit assembly. The difference is that automation systems need a clear tray so that the vision systems can see the components. The trays inserted manually didn't need clarity and it was important that they look different from the automation trays for fast visual identification by personnel assembling the test kits.
The tray design needed to fit the dimensions of the small kit carton and allow the components to be stacked in the tray. Therefore, the designer took into consideration the order of use for the components to ensure the first item to be used would be on top.
One day after the initial customer request, Rademacher had developed two concepts for the two different trays. Final designs were approved in about 15 days, a process that can typically take up to 10 weeks. Tooling engineers used Prent's in-house 24/7 automated machining center to produce the molds, cutting down the typical timeline to just 10 days.
During the piloting program, the Prent team produced sample trays and conducted characterization studies to ensure they met all requirements. The same day the tray samples were created, sales representative Mike Sokolik got in his car and drove the samples to the healthcare company to expedite the approval process.
Choosing a plastic - Meanwhile, there was much consideration about which material to use. Prent worked with its plastic extrusion partner, GOEX, to determine the best options. The biggest concern was procuring high resin quantities in a short time period as there was a shortage of various resins due to severe winter storms in Texas that impacted many resin manufacturers. Plus, the increasing use of plastics for PPE had stretched many reserves thin.
"Our biggest problem has been resin supply," says Michael Pregont, senior VP of operations at GOEX. "Usually medical packaging takes a while to be developed and validated so there is plenty of time to acquire the resins we need based on a demand forecast. We reached out to some of our suppliers to support the high volumes we needed in a very tight timeframe. Due to the specific material requirements that were driven by the project, many were unable to help us."
For the automation tray, the key needs were to have a clear, lightweight material with slight rigidity that was easily recyclable after the consumer used the kit. Eventually PET was chosen as the best material due to its widespread availability and high clarity.
The manual tray had the same rigidity and recyclability requirements but didn't need to be clear. After considering several options, opaque high impact polystyrene was chosen because it was highly available, fairly easy to thermoform, and would use 30% less plastic than PET in the same footprint.
Preparing production machines and people - While designs were being finalized, the production manager was preparing for a large demand on the manufacturing floor. Prent was in the process of developing a new certified clean room when the test kit project came in, putting construction on fast forward. The new clean room was ideal for adding production capacity quickly.
Because Prent designs and builds its own thermoforming equipment, they were able to build and validate multiple new thermoformers in the new clean room faster than if they had to wait eight months for machines to become commercially available from an OEM.
"It was an 'all hands on deck' approach," says Mark Rothlisberger, senior VP of manufacturing at Prent. "Our employees worked overtime and we brought in employees from other facilities to help us install the equipment. Engineers stepped out of their usual roles to put machines together."
The extra effort paid off. The clean room and its multiple production lines were complete in six weeks, which normally would have taken twice as long.
But who would run the production lines? Over a two-week period, human resources conducted a job fair and the company hired 80 permanent full-time and part-time employees for production, inspection and packing. Soon the lines were running two shifts. There were 8 million trays produced in the first month, with millions more expected throughout 2021.
Logistics - After inspection, trays were packed into one-way totes, which stack higher in semi-truck trailers than traditional skids, so they can ship twice as many trays in a single truckload. Logistics was a bit more complex because there were 13 different sites assembling the test kits, all with different tray type and quantity specifications. The first batch of trays was sent out to assembly sites within 28 days after the initial call with healthcare company, which is three times faster than a standard project.
Making a better tote lid for vaccine vials
In July 2020, SiO2 Materials Science announced it successfully accelerated its manufacturing capacity for COVID-19 vaccine vials and would be producing millions of them in just a few short months. An important aspect of distributing vials to the vaccine makers is ensuring they arrive quickly and safely in an easy-to-use format for the filling process.
SiO2 called its packaging partner Prent to ensure they would have the available capacity to keep up with the large project. For years, SiO2 has been shipping vaccine vials to pharmaceutical filling plants in plastic tubs developed by Prent. The company successfully increased production of tubs and matching lids to meet the increase in vial production.
Soon, however, it became clear that a new lid design was in order.
"The lid snap needed to be stronger because a robotic arm would be grabbing the tubs by the lid at the filling plant," says Prent sales representative Marcus Knouse. "Plus, the tubs needed to stack more securely but still denest smoothly and uniformly. SiO2 requested a new lid that would meet these needs."
Design and production in record time
Prent design engineer Jason Erickson designed a new lid with a deep undercut so the lid could better grip the tub flange for a more secure fit. Stacking locating features were added to the tub lids so that they could stack without slipping during transit. A PETG medical grade copolyester resin from GOEX was chosen because it retains high rigidity and has a special property for consistent denesting, which improves efficiency in SiO2's automated process.
Erickson had two design concepts for consideration the day after SiO2's call, then two lid models the day after that. The process of design, modeling, and approval traditionally takes about three to four weeks; yet it took less than 10 days in the expedited process with SiO2. Next, tooling engineers in Prent's automated machining center produced the mold in 26 days and began the pilot process to develop samples in three days (a tooling and pilot process usually takes about eight weeks).
Once the lid design was approved, sterile production began immediately on a dedicated line in Prent's clean room. The first 60,000 lids were manufactured in just two weeks and shipped to SiO2 in one-way totes. A second batch of 60,000 lids was sent a month later.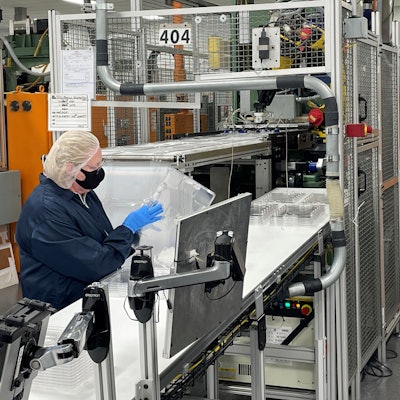 In total, the new lids were designed, produced and shipped in just two months, which was 1/3 of the time it takes in a typical situation. So far, Prent has produced more than a million transport tubs and lids for SiO2 and will continue to do so into the foreseeable future.
In the global drive to defeat COVID-19, companies like SiO2, Prent, and GOEX work closely to do their part to ensure the safe and fast delivery of vaccines and test kits to people everywhere.
PACK EXPO Las Vegas and Healthcare Packaging EXPO (Sept. 27-29, Las Vegas Convention Center) will reunite the packaging and processing community, offering new products, technologies, and solutions, while implementing up-to-date protocols for a safe and successful in-person event. Attendee registration is now open.
Companies in this article