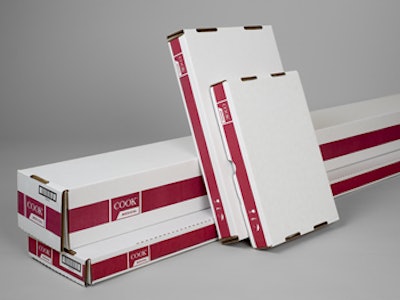 Did you know the healthcare system produces nearly 7,000 tons of waste every day and spends $10 billion annually in waste disposal? During a time when the industry is facing pressure from insurance companies, governments, and patients to cut costs, waste is an area that should be scrutinized for bogging down the system.
At Cook Medical, we like it when things that are good for the planet also make good business sense. The good news is that sustainable business practices often produce cost savings across the board. For example, this year, we realized that one of the boxes we ship our products in was 4 in. larger than it needed to be. We shortened the box and reduced the amount of corrugated our customers have to dispose of. We think that making this small change will remove the weight equivalent to 12 four-door sedans from the system. It's cheaper for us to produce, cheaper for the hospital to dispose of, and better for the environment.
We've also seen our customers making sustainable business choices that are exciting. Hospitals are looking at better ways to dispose of the mountains of corrugated and paper that leave their facilities every day. Group purchasing organizations are evaluating points in the supply chain where consolidation is possible. Our customers have also been asking us how we can work with them to reduce our combined impact on the environment.
One of the main areas where there is opportunity is in how products move through the system—from starting as a raw material and ending at the patient's bedside. In this process, there are multiple points along the way where businesses can make decisions that save costs and are good for the environment, without sacrificing patient safety or product quality.
As we've started talking more with customers about how we can work together to make healthcare more sustainable, it's become clear to us that the best way to find solutions is to be transparent with each other. Suppliers have to be willing to let people into their manufacturing plants and warehouses. Providers have to be transparent about what problems they are facing, and what's coming out the back door of the hospital at the end of each day.
A few years ago we were working with a customer that told us that Cook's paper packing material was causing problems for them. It was dusty, resulted in debris, and there was a lot of it. We hadn't thought about how the paper would affect the hospital, but immediately recognized the problem. We changed to a biodegradable air pillow that would remove weight from the system, was cleaner, and could be disposed of with no environmental impact because of the biodegradable material. When suppliers and providers spend time together and share information, a small change can result in big wins.
Is your organization thinking about sustainability? What kinds of interesting things are you seeing done in the industry? We'd love to hear your story!
Author: David Reed, Vice President of Operations, Vice President of Healthcare Business Solutions and Corporate Compliance Officer, Cook Medical Inc.