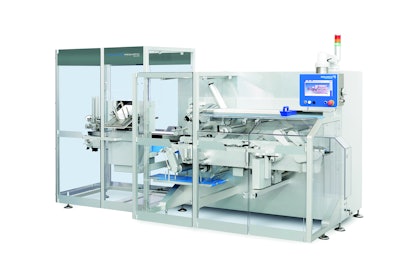 Romaco's Promatic PCI915 intermittent-motion cartoner measures a mere 3.5-metres-long. Designed with a very small footprint, it is suited for when only limited space is available.
The technology is mainly employed for the secondary packaging of blisters, sealed strips and bottles, and can be configured either as a standalone machine or in line with a primary packaging unit.
Cartoner achieves a maximum output of 160 cartons/min.
The ergonomic system concept of the PCI915 simplifies operation and reduces downtime.
For the first time, the containers for rejected products, leaflets and cartons are freely accessible and can be removed and emptied without interrupting operation. Product and packaging changes can be completed quickly and easily without tools.
Formats are designed according to the "poka-yoke" principle to prevent parts from being incorrectly assembled. The cartoner's cGMP-compliant balcony architecture speeds up line clearance. All in all, the better visibility on the processes improves operating reliability. The highly automated Promatic PCI915 provides reproducible parameters and high-quality end products.
Companies in this article