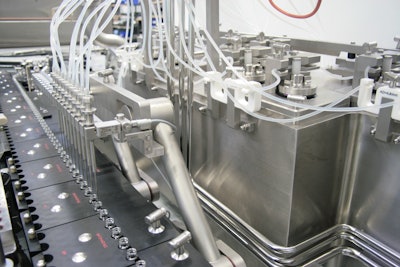 At Interphex NY's "Advanced Aseptic Technologies Tour—The Latest Innovations in Aseptic Barrier Filling Technology," hosted by IPS (Integrated Project Services), groninger will present one of its latest projects as a business partner of a European contract manufacturer for vaccines. The production line is for vaccine goods in vials designed and manufactured by groninger. The line processes up to 400 vials/ min, at a 100% IPC rate.
A three-fold camera checking station spots glass particles inside the vials to avoid the processing of non-compliant vials and with that the contamination of the vaccine products.
Dr. Wenzel Novak, director of Pharmaceutical Research and Development at groninger says, "With a minimum of change parts, to make changeover as fast as possible, more and more flexible equipment is requested to handle any kind of containers and packaging configurations on the same line."
Flexibility is not only requested in the variation of objects, but also in the processing of different liquid products. The project being presented is equipped with a combined filling system, including both time-pressure and peristaltic pumps that permits the handling of several different pharmaceuticals.
 
Companies in this article