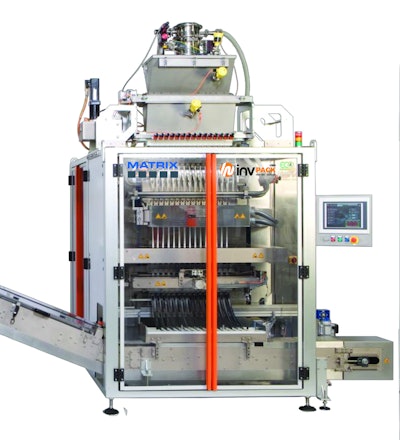 The Pro Mach Flexible Packaging Group's new servo-controlled feedback system for high speed stickpack packaging of pharmaceutical or nutraceutical powders achieves a + 0.05 gram/pack accuracy.
At speeds ranging from 300 to 1,000 stickpacks/min, this level of control improves the quality of each stickpack dose and minimizes product waste for greater profitability.
The new quality assurance system available on INV Pack PH Series 600 and 900 multilane stickpack machines is based on feedback loops between checkweighers embedded in each stickpack lane and servo-controlled augers feeding the powder into the lanes. This system solves the weight assurance problems typically found with volumetric filling of powders where changes in humidity lead to changes in weight. In small packs, these fluctuations can have a negative effect on the accuracy and quality of the dose of pharmaceutical or nutraceutical powder. Inaccuracy also lowers profitability through product giveback.
The INV Pack PH Series of machines form, fill, and seal stickpacks for powders,granulates, liquids, and pastyproducts for the pharmaceutical, nutraceutical, dairy, food, and cosmetics industries.
PH Series machines feature a closed frame for clean operation. Stickpack widths vary from a minimum width of 17 mm to a maximum of 100 mm on the PH 600 and from 17 mm to 45 mm on the PH 900. Maximum output on the PH 600 is 750 units/min from 15 lanes and 1,000 units/min on 20 lanes for the PH 900. Quality laser printing and pack scoring are available on both machines.
Companies in this article