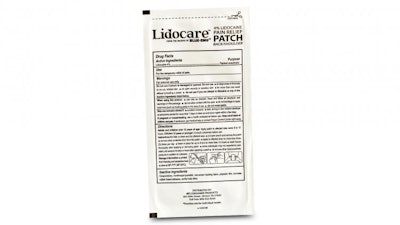 Lidocare Pain Relief Patches are an over-the-counter product designed to provide pain relief from aggravated nerves by blocking pain at the site. The development of a flexible pouch that protects the patches has earned a 2017 Silver Achievement Award from the Flexible Packaging Assn. for Bemis Healthcare Packaging.
The pouch is manufactured using PerfecPharm™ P616, which incorporates Bemis® CXB™ sealant. This award was accepted March 1 by William Jackson, Senior Vice President & CTO for Bemis Company, Inc., during the 2017 Flexible Packaging Achievement Awards Ceremony and Welcome Dinner.
"We are proud to receive this technical innovation award and recognition from the FPA for the development of this high-barrier pouch, engineered to package and protect the Lidocare™ Pain Relief Patch," says Georgia Mohr, Pharmaceutical Marketing Director for Bemis Healthcare Packaging.
The Bemis CXB sealant in this foil lamination provides low drug uptake and high-barrier properties, which are critical for the packaging of Lidocaine Patches.
Mohr adds, "PerfecPharm™ P616 provides outstanding chemical resistance to lidocaine and the other chemicals present in the transdermal patch formulation. Bemis CXB sealant contributes to maintaining the efficacy of pharmaceutical products and is a leading product in our transdermal packaging portfolio."
Bemis Healthcare Packaging specializes in the manufacture of coextruded, laminated, and flexible forming films, foil barrier laminations, pouches, bags, thermoformed trays, lids, heat seal coated DuPont™ Tyvek® packaging materials and medical grades of paper.
Companies in this article