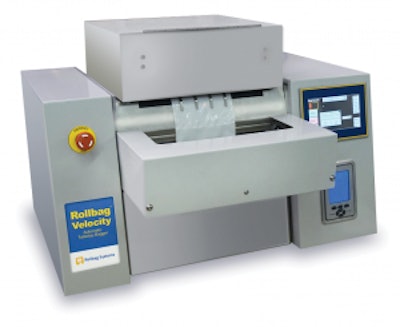 PAC Machinery introduced their advanced Rollbag R1285 Velocity automatic bagger featuring next-bag-out print technology.
The Rollbag R1285 Velocity automatic bagger by Clamco integrates a proven automatic bagger platform with direct-to-bag printer and variable data software. The result is a time- and labor-saving approach to mail order fulfillment packaging of poly mailers.
The versatile printer can apply almost any data you choose including a unique delivery address, barcode, product info, return address, etc., directly on the bag, thus eliminating the need for a paper label and the time and effort required to print and apply the label. As a result, the possibility of placing the wrong label on the wrong poly mailer is virtually eliminated.
The software/printer integration has the capacity to store up to 20 job configurations, and has the potential to reduce labor costs in order fulfillment packaging environments that use poly mailers. Bagging and printing can be performed on co-ex poly mailer material quickly and efficiently. The system is engineered to work with Rollbag brand pre-opened bags on a roll. Poly mailers as well as many other types of bags on a roll are available from Converting Technology, part of the PAC Machinery family of brands.
PAC Machinery manufactures equipment and materials that are used in the flexible packaging industry. Products include heat sealing equipment, vacuum sealers, automatic baggers, pre-opened bags on a roll, and shrink packaging systems. The company has had its roots in the packaging industry since the early 1950's, and now designs, manufactures and markets products through its family of companies: Packaging Aids, Vertrod, Clamco, Rollbag Systems, PacMed and Converting Technology. PAC Machinery is the exclusive, North American distributor for Audion bag sealers.
Companies in this article