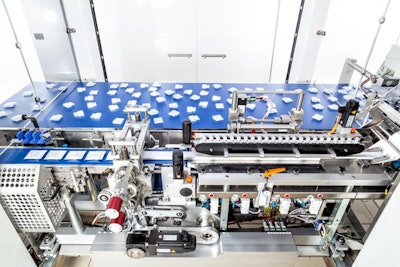 The Schubert Group, headquartered in Germany, has been a trailblazer in robot technology for more than 50 years. During the Pack Expo show in Las Vegas, the packaging machine manufacturer will be exhibiting its new lightline Flowpacker – showcasing its proven dedication to innovation. The machine on exhibit combines a Flowpacker and a Pickerline in a single system and features Schubert's patented, state-of-the art sealing technology for packaging heat-sensitive products even more gently into flowpacks. The exhibition machine will be installed at a North American baked goods manufacturer after the show.
For more than 25 years, Schubert has been continuously increasing its market share in North America by providing end-of-line automation solutions with over 300 TLM packaging machines successfully operating on the continent. Close to 90 percent of the world's major manufacturers of fast-moving consumer goods (FMCG) rely on Schubert's modular and compact packaging systems. All over North America, Schubert TLM packaging machines package products of all kinds and from all industries – ranging from food, confectionery and baked goods, through to dairy products, beverages, pharmaceuticals, cosmetics and technical products – in trays, cartons, boxes, bottles, tubes or flowpacks.
An unwavering commitment to innovation
"Modularity is our core competence," explains Hartmut Siegel, CEO Schubert North America. "Modularity, flexibility, efficiency and reliable technology are the cornerstones behind the success of our top-loading packaging machines. The machines' modular design, along with their advanced mechanical design and intelligent control systems, ensure exceptional effectiveness."
Manufacturers increasingly require integration-ready, flexible and compact machine systems and Schubert continues to innovate solutions to support its customers successfully achieve their growth objectives. With Schubert's new lightline machine series, manufacturers can master standardized packaging tasks with outstanding efficiency and high quality at attractive purchase costs.
The lightline Flowpacker on exhibit was designed for a North American, family-run baked goods manufacturer to efficiently automate its end-of-line process by packaging freshly baked croissants and Danish pastries into flowpacks. The system fully integrates flow-wrapping into the packaging line by combining a Flowmodul and a Pickerline in one system. During the show, the machine will package chocolate biscuits in a two by two formation into flowpacks.
State-of-the-art sealing technology
The integrated Flowmodul is equipped with Schubert's new patented sealing technology. First, an ultrasonic sealing system closes the flowpack's longitudinal seam, then a heat-sealing system with a flying cross-sealing unit is used. The flying cross-sealing unit adapts to the variable speeds of the upstream pick & place robots and therefore ensures high sealing quality with constant sealing times. Schubert's state-of-the-art pick & place robots guarantee flexible and gentle product handling. Thanks to Schubert's system modularity, the robots can be seamlessly combined with other modules to integrate several packaging processes into a single system.
The machine also integrates Schubert's 3D image recognition system to detect product position, orientation, height and quality – ensuring that the robots pick up only flawless products. Manufacturers of all types of products greatly benefit from Schubert's pick & place robots combined with its image processing systems, especially for handling sensitive products. The machine will be equipped with small-footprint pick & place robots to offer an even higher degree of compactness.
The lightline machine series
Schubert's lightline machine series includes three compact preconfigured packaging machines: the lightline Cartonpacker for erecting, filling and closing cartons, the lightline Pickerline and the lightline Flowpacker for packaging products into flowpacks. A key benefit of all three compact preconfigured packaging machines is the unparalleled packaging machine availability they ensure in combination with Schubert's outstanding quality.
Technical expertise meets Schubert's proven customer-first mindset
Experienced service specialists in North America provide expert advice on all aspects of Schubert TLM systems. Schubert North America's local customer support team consists of highly qualified service experts. The North American service support centers have been established in large metropolitan areas with outstanding infrastructures and non-stop international connectivity. Customers benefit from the broad set-up across the continent. Regardless of whether manufacturing sites are in Canada, USA or Mexico, highly qualified Schubert service engineers are on hand to assist customers. Either personally on site or available via remote support – manufacturers can count on expert support to address all their needs, ranging from machine installation, inspections and maintenance, through spare part orders to machine modifications of all kinds. Direct, extensive support is key to ensuring greater line availability. This is why Schubert North America invests in workforce training and development to deliver high quality service to its customers. Service technicians at Schubert North America are trained with a unique internally designed apprentice program that involves a comprehensive training seminar at its headquarters in Germany, as well PMMI-certified trainings and other industry-specific training courses run with local universities and colleges.