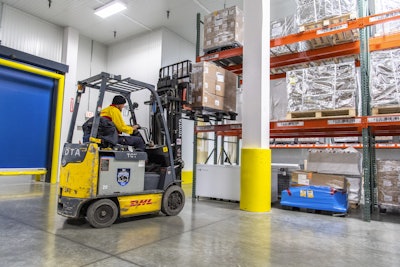 DHL Global Forwarding has been operating in Chicago for 75 years, and in 2015 it opened a $35 million, 434,000 square foot facility that is the company's largest air export gateway. The building is designated a Foreign Trade Zone, and is DHL's largest world-wide facility, handling international freight for specialized customers in the high-tech, pharma and food & beverage industries.
David Goldberg, CEO, US and Philip Steffen, Global Commercial Head of DHL Same Day, took Healthcare Packaging on a tour of the updated facility, to look at new supply chain investments the company has made, including its 9,882 square-foot Life Science Cold Chain Certified Competency Center.
Able to process pharmaceutical, biotech and medical devices that need to be in a temperature-controlled environment, the life sciences facility has specialized storage dedicated to life science and healthcare goods - including temperature controlled large short-term storage for both 2-8 C and 15-25 C and smaller frozen capability.
DHL has recently launched a newly updated SmartSensor temperature data logger, providing temperature-controlled packaging and Smart Sensor technology for climate-sensitive products. This is important, said Steffen, "as we move towards more specialized medicines that require a certain range of temperatures."
Using Near Field Communication (NFC) technology, sensors log in-transit ambient environmental temperature conditions during shipping, functioning at temperatures between -40 and +60 degrees Celsius. The sensors allow uploading of temperature data directly to the DHL mobile app and LifeTrack web portal, making them cost effective and easy to use without the need for specific scanners or devices. According to Steffen, DHL has seen a 40% increase in operational capabilities using these scanners.
Looking to innovation as a "forward thinking provider," Steffen said that "exponential technologies" such as robotics and artificial intelligence will continue to play a growing role in life sciences, "requiring a different set of logistics to support," and DHL is working towards that goal.
Another new distribution technology that was implemented in the larger warehouse in June is the use of RFID tracking. Radio-Frequency Identification (RFID) tags, which use radio waves to read and capture information stored on a tag attached to an object, allow triangulation of location and flow of cargo through the facility and can be read from up to several feet away without direct line-of-sight of the reader. With the new RFID tag technology, the Chicago warehouse will be able to detect where a container is from the time it arrives at the warehouse to the time it leaves, without manual scanning.
Next-generation weight and dimension technology is also being introduced to the warehouse and will shorten offload time from hours to six minutes, on average. "It improves the speed of our operation, it improves the quality, and it improves the cost base of the operation," said Goldberg.
While traditional weight and dim processes involved putting cargo on a scale, printing a scale ticket, manually attaching the scale ticket to a dimension sheet, and using a tape measure to measure the length, width and height, the new technology incorporates scales directly into the forklifts. An overhead dimension measuring unit sends the data directly to the scale ticket printer where the weight and dimensions are printed on the label. This saves approximately 15 – 20 seconds per piece, equaling 111 hours per week of time savings for export shipments.
The Chicago hub is also developing e-commerce warehouse space with services including pick & pack, sorting, labeling, inventory management and returns. Said Goldberg, "E-commerce means many different things to many different people, it's not just one simple business."
Steffen sees e-commerce developing for life sciences too, using an example of the evolution of custom drugs based on an individual's DNA profile. He sees a future where "we can go direct from one of our warehouses to the patient with the right dosage, the right medicine, package, label, even the disclaimers that come in a package."
Companies in this article