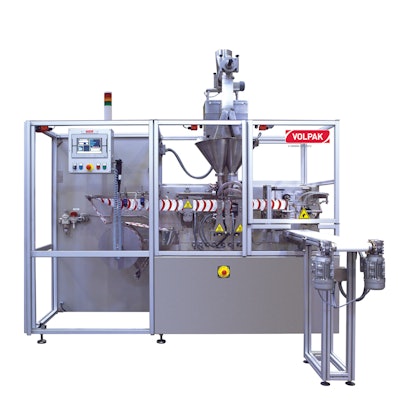 In the last few years, Volpak has strongly invested in R&D activities, designing or re-designing its machines to make them faster, more versatile, with larger pouches capabilities and smart factory connectivity, boasting also high efficiency and incorporating recyclable materials features. The packaging industry push for the use of recyclable materials brings significant challenges for manufacturers at the equipment performance level and Volpak already has the technology to operate this kind of materials. Stability in the unwinding process, control of film stretching, precise settings and accurate control of sealing parameters are key elements for the manufacturing of good quality and leak-proof pouches, especially if made with down-gauged packaging films. In the fall, the company will take part in five of the main exhibitions worldwide, namely the Pack Expo in Las Vegas, from September 23th to 25th, the FachPack in Nuremberg, from September 24th to September 26th, the PPMA in Birmingham, from October 1st to October 3rd, the Gulf Food in Dubai, from October 29th to October 31st, and the Andina Pack in Bogotá, from November 19th to 22nd.
Machine on show: VOLPAK SI-280 at PackExpo
The SI Series has been recently redesigned to be a state-of-the-art technological machine, fitted with smart factory options and capabilities; a versatile unit that covers a wide range of pouching needs, from small to large pouch sizes, while also being flexible and offering the fastest size change over for HFFS machines. Last but not least, the SI Series is technologically ready to operate with recyclable materials.
The SI 280 on show at Pack Expo will be equipped with cutting-edge solutions for the management of different packaging materials qualities. Moreover, as with all latest Volpak machines, the SI 280 addresses the needs and requirements of Industry 4.0 and digitalization, hence it comes with a set of "smart" advanced devices such as an asset performance evaluation system, central data storage, web-based self-diagnosis system and plug & play interconnectivity.
Machine on show: VOLPAK SL-110 at FachPack
The SL-110 is a horizontal form-fill machine, available in Simplex and Duplex versions, which can produce up to 180 pouches per minute. It covers a series of different processes, including the making of the pouch, its filling and the cutting at the end, producing both single and twin pouches joined with perforations. It is even possible to manufacture strips of ten pouches on the same machine, thus making it an extremely flexible solution.