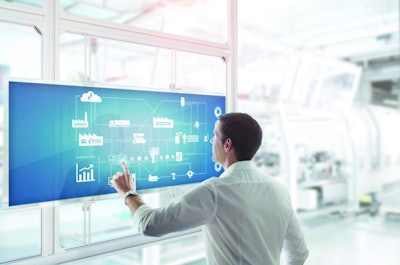 At Achema this June, Bosch Packaging Technology is releasing a new data mining service, adding to its range of pharma services for solid dosage forms. Offered by Bosch subsidiary, Hüttlin, the aim is to evaluate existing machine data more effectively to identify and eliminate root causes.
"So far, about 50 percent of deviations have been classified as 'human error'," says Senior Scientist Dr. Marc Michaelis, who works in continuous production and process verification at Hüttlin. "Yet we assume that this is true for no more than ten percent. The rest is often misinterpreted due to missing information." Dr. Michaelis notes that there is often enough data available to reach the root cause, yet "there is a lack of knowledge and time to read this data correctly."
Initial projects have shown that new patterns and failure causes in production can be defined and remedied using data mining, which can help to achieve stability in product quality over time.
Interpretation of machine data

The data mining tool allows users to examine large amounts of data for small effects using statistical methods. In general, the company reports that data from two production batches is already sufficient to draw first conclusions. The more data is available for evaluation over a longer period, the more details can be identified.
Machine sensors already collect data on almost all historical machines, so the tool can be used without large investments. The company teamed up with the statistics professionals from the Bosch Center for Artificial Intelligence in Germany and the U.S. to develop the tool.
The company notes one example where a customer produced an out of specification (OOS) batch. The recorded data showed that a particular valve was responsible for the deviation. However, the valve had been excluded as the root cause beforehand since it was considered uncritical in terms of product quality. "Eventually, we found out that the valve provided an indirect indication of a false gas flow in the system, which was not visible at first sight," said Dr. Michaelis.
Companies in this article