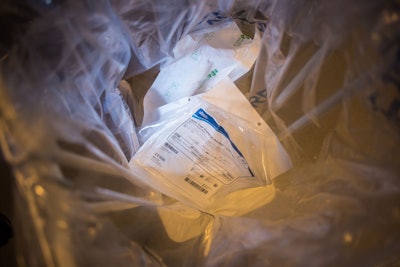 1. New Insulin Delivery Device Employs COC Cartridge
Valeritas Holdings, Inc. launches a wearable patch-like device for Type 2 diabetics, eliminating the need to take multiple daily shots.
How one company's innovative instructions, packaging and training videos are redefining "first responder" by enabling bystanders to help in emergencies and mass casualty situations.
3. Can Unit-Dose Packaging Reduce Opioid Abuse?
Though not a mandate, FDA Commissioner Gottlieb recognizes that blister packaging could help alleviate addiction, abuse and overdosing of medications such as opioids and loperamide.
4. Designing for Home Healthcare
Products intended for home use bring special considerations for instructions and design. SoClean has created a CPAP sanitization device that fits a variety of users' machines and homes.
5. Sustainable Packaging Option For Temperature-Sensitive Shipments
Green Cell Foam expands into temperature-sensitive market, offering sustainability, moisture barrier and shock and vibration resistance.
6. 4 Ways to Impress Nurses (and a Few Ways Not To)
Live from HealthPack 2018, the nurses' panel explored the ways that stickers, pouches, trays and cartons help or hurt aseptic presentation and daily operations in healthcare.
7. Buffalo Pharmacies Addresses Medication Adherence
Independent community pharmacy offers multi-med blister card packaging that helps patients, caregivers and pharmacists manage complex medication regimens.
8. Disaster Logistics: Drug Distribution During Time of Crisis
Lessons learned by government and industry from the 2017 hurricane season.
9. Optimizing Labels to Reduce Risk
Research is uncovering key findings on user perception of healthcare labels. A decision tree to make objective, risk-based choices on label design is under development.
10. Hospital Takes Aim at Plastic Recycling
Can the healthcare industry really recycle? One hospital's journey is showing that with concerted effort, it is possible. But it requires stakeholder cooperation.