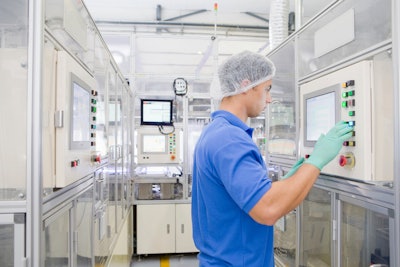 For years, manufacturers across numerous industries have utilized automation and robotics to deliver critically important financial and productivity benefits. The same holds true for packaging functions within many of these industries, boosting overall equipment effectiveness (OEE) and providing real-time data collection, edge computing, cloud analytics, etc.
Looking ahead, PMMI recently released 2017 Evolution of Automation Report, from the association's Business Intelligence Program, predicts strong growth for sales of new, more sophisticated packaging machinery as brand owners and end users continue down a path toward automation.
But is there be a downside from rapidly developing automation? That could be the case, according to research conducted by Srikant Devaraj, a Research Assistant Professor with Ball State's Center for Business and Economic Research (CBER); Michael Hicks, CBER Director; Emily J. Wornell, a Research Assistant Professor with Ball State's Indiana Communities Institute; and Pankaj C. Patel with Villanova University.
"County-level job automation risk and health: Evidence from the United States," published in the journal Social Science and Medicine, found that exposure to automation risk may be negatively associated with health outcomes, plausibly through perceptions of poorer job security.
"While estimates of potential job losses due to automation vary for our nation— with one as high as 47%—most people agree that the risk of automation is significant and growing," says Hicks, who found in 2015 that job losses in the nation's manufacturing sectors due to automation were as high as 88% in recent years. "People who live and work in areas where automation is taking place are sickened by the thought of losing their jobs and having no way of providing for themselves or their families."

The study estimates that a 10-percentage point increase in automation risk increases overall costs by $24 million to $174 million due to increase in prevalence of poor or fair health; $6 million to $40 million due to increased physical distress, and $7 to $47 million due to increased mental distress.
The study also found that the Southern region of U.S. appears to have a higher percentage of people with worse health from exposure to automation risk. The Plains, the Midwest, and the New England regions have better health outcomes. These patterns, says the study, are consistent with general health patterns in the nation—health conditions are worse in the Southern U.S., and positive in the Plains, Midwest, New England, and the West Coast.
"The actual and felt threats from automation may not immediately manifest into morbidities, but the increasing prevalence of poorer self-reported health and feelings of deteriorating physical and mental health can have a direct and lasting impact on individuals, families, and communities," says Hicks. "While we cannot fully unpack the black box between county-level automation risk and health, nevertheless, it is important for policymakers to understand the health effects of automation risk."