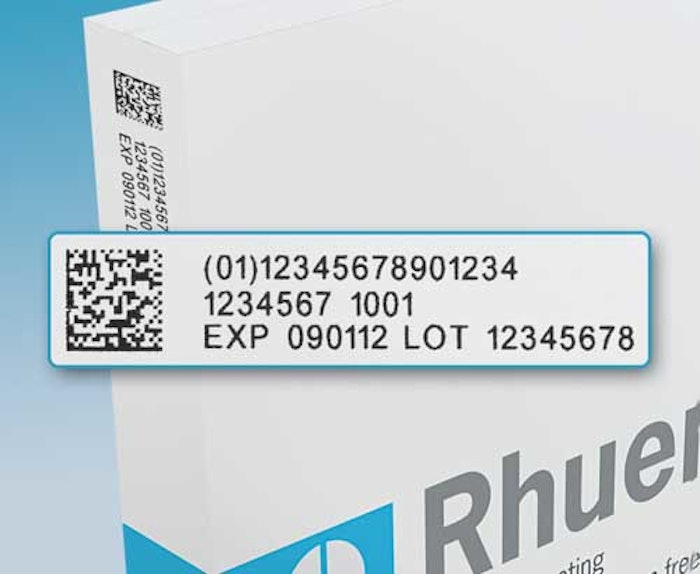 In the following Q&A, Healthcare Packaging talks with Bob Neagle, business manager, Brand Protection Solutions Group,
Videojet Technologies
.
Healthcare Packaging (HCP): Tell us about your responsibilities at Videojet.
Bob Neagle (BN): The brand protections solutions group is a division of Videojet that was formed by our acquisition of Prism Inc., in 2007. We saw an opportunity for brand protection-track-and-trace systems, particularly in pharmaceuticals, but also in personal care, food and beverage, tobacco, and in security printing applications.
HCP: Describe the unique challenges with regard to counterfeiting and diversion in the pharmaceutical chain?
BN: You have both counterfeiting and diversion going on in pharmaceuticals, with multiple drivers involved. Counterfeiting is fairly prevalent, and there's considerable publicity around diversion, particularly with online pharmacies looking to acquire products to sell that sometimes are not legitimate.
Then there's the drug supply chain itself, which can be pretty convoluted. You have issues where the product maybe is being handled by people you don't want touching the drugs. So it's important to have the ability to have that pedigree, to know everyone who has touched it, and to make sure that they are authorized and did the right thing with it That's where this is heading and that's where the regulation is heading. So it's a combination of counterfeiting and then people diverting it into the wrong channels, and unauthorized people who may sell expired drugs or just do things to the drug that are not in the best interest of the end user.
HCP: Speaking of pedigree, what's going on with regard to the e-pedigree legislation?
BN: The California e-pedigree legislation means that about half your prescription drug products need to be serialized by 2015, with the other half by 2016. As few drug manufacturers are going to set up lines specifically for California, you should see this applied to drugs sold throughout the U.S. The FDA has authority to enact nationwide regulation that would supersede California, but to date the guidance they have issued on the subject closely parallels California. It is confusing and some of pharmaceutical companies might use the pushback on e-pedigree as a reason not to move forward. Other states are doing things but California is the most stringent, so that's probably what you're going to see.
HCP: Do counterfeiting and diversion issues also pertain to bio-pharmaceutical products and medical devices even?
BN: What's interesting there is that the people we've spoken to in the medical device industry that aren't sure if and how e-pedigree applies to them and what the regulations are going to be.
HCP: What developments are you seeing from your customers regarding the subject of counterfeit packaging?
BN: We definitely have people that want traceability so when they pick up something, at the end point, they know how it got there and whether it's the real thing or not. So there are a handful of customers who are doing that. Some of them are starting on the floor with in-house traceability. For example, a company making surgical kits receives various kit components from other places, then they packs it all in to the kit. So the ability to have the history when the kit of all the individual incoming pieces, to know when they came in, and how they were processed while in the facility, that's definitely a starting point for traceability that some of the medical device people are looking at.
JB: The other area that I wanted to mention was we are seeing so many products now making the switch from prescription-only to over the counter products. Does that further enhance the likelihood of counterfeiting and diversionary tactics?
BN: Yes, clearly, I think it would. And, as products come off-patent, you have multiple suppliers of those types of drugs and then you don't really know who is reputable and who isn't. There's also a counterfeit issue there.
HCP: You mentioned the distribution chain in pharmaceuticals is so complex that there are a lot of opportunities for counterfeiting. We often hear how the best defense against counterfeiting is kind of a multi-layered approach that incorporates a variety of technologies. What's your viewpoint here?
BN: I absolutely agree. We are selling the ability to put unique codes on something and then track it through the distribution chain. Now the issue with that is just the pure counterfeit measures is that if somebody gets a legitimate number, who knows who is the first to validate it? So you could take a number off of something, put it on to something else and then if you are the first one to validate it, you don't necessarily know the counterfeit one versus the real one.
So you want to back it up with some degree of tracking and tracing so at least when somebody goes to validate that number you have an idea where you should have found it. If it's found in the wrong place, it gives you an idea that somebody could have copied the number. So Videojet can handle all of that but what's also a good practice is to employ some optically variable device on the packaging that might be hard to copy. The best way to do that is not to just have one, but to have 10 or 12. Then you could have a code to tell you which of those 12 is supposed to be on the package. With that approach, you have made it at least 12 times harder for somebody to counterfeit something and make the packaged product appear valid.
HCP: By employing these technologies, though, you're adding to your cost.
BN: I can't deny there is an incremental cost to applying these measures. But in the case of mass serialization solutions, such as Videojet IMprints, we're talking pennies per unit or less. So in the overall scheme of things, when you're talking about dealing with potential patient safety issues, it's not a particularly onerous cost.
Companies in this article