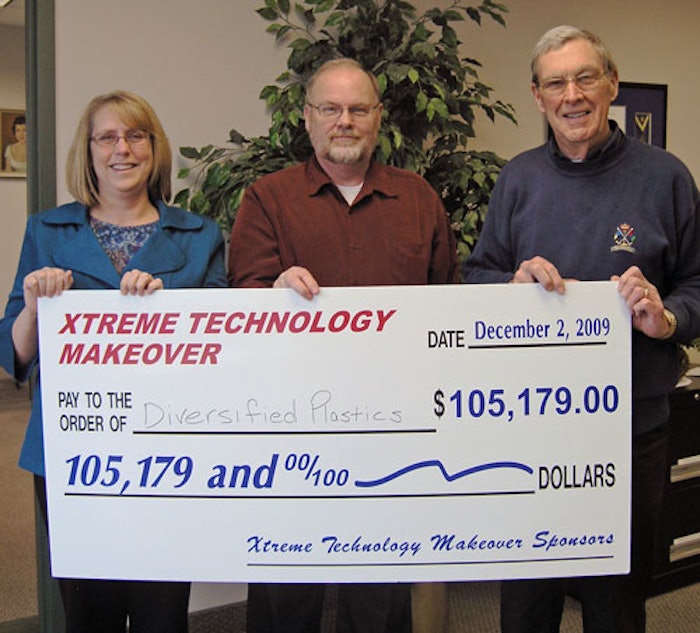 Organized by Verus Corp., RJS Software, 18 other sponsors and supported by five Twin Cities Chambers of Commerce (MetroNorth, Minneapolis Regional, North Hennepin Area, St. Paul and TwinWest), this contest was the first of what is to become an annual event.
"We were ecstatic to have won as we had been hopeful about the possibility, but didn't really expect to be chosen," said Annette Lund, vice president, Diversified Plastics. "It was a big surprise when the check was unveiled and our name was on it." The excitement was shared by Jill Johnson, executive director, North Hennepin Area Chamber of Commerce. "Diversified Plastics was one of our three members that became finalists, and we were thrilled to find out they had won."
The
Xtreme Technology Makeover
contest was similar to events initiated by Microsoft Corp. around the country. It was open to Twin Cities businesses with 10 or more employees that could demonstrate a need for the equipment. "We saw this event as a way to help a company in these tough economic times become more efficient and productive with the latest information technology tools," said Kevin Willette, owner of
Verus Corp.
and one of the contest's key organizers. "This also gave our sponsors an opportunity to give back to the business community while showcasing their technology solutions."
Promoted by the five chambers of commerce, the contest drew applications from 60 local businesses. A selection team reviewed all applications, conducted face-to-face interviews with each company and gathered additional information. From this group of 60 companies, the team chose 11 finalists which were turned over to a panel of judges, made up of one representative from each of the sponsors and chambers of commerce, to make a final selection.
Contest prizes included a computer server, firewall and related software, document management hardware and software, a complete phone system and service, system installation, software training classes and ergonomic furniture. "These products will help us update our technology and become more productive," said Lund. "We are in the process of buying new manufacturing software, and our phone system needs updating, so the timing for a new server and other IT equipment could not be better. As our business grows in the medical device and aerospace markets, the document retrieval system will be a necessity to help us manage the required documentation so much easier and efficiently."
Companies in this article