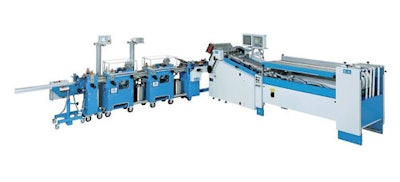 Cortegra
has installed a Vijuk MV Large Format Folder in its Evansville, Indiana facility. This purchase is in response to the FDA requirement for larger font sizes and additional prescribing information (RTA large format) on packaging inserts to manage the risk of medical product use and reduce medication errors. The increased type size necessitates the need for larger inserts. It's a challenge for many drug companies to meet this requirement without having to make major changes to their existing packaging lines. Cortegra can offer a solution to this problem with its new Vijuk MV Large Format Folder.
The Vijuk Folder can fold inserts up to 150 panels thick, whereas many industry folding machines can only fold 90 to 120 panels. It can fold a flat sheet of up to 20.75 inches wide and can produce folded inserts that are smaller and thicker than other folders. The Vijuk MV Large Format Folder has a folding rate speed at 150% of many other folders and stores job settings for quicker make-readies. It also features an upgraded glue system and a digital water score system.
"The FDA requirement for larger type sizes and more copy on drug packaging inserts presents a real problem for drug companies that have existing packaging lines that will not accommodate a larger folded insert. Therefore, we are especially pleased to announce the addition of our new Vijuk Large Format Folder which offers the state-of-the- art solution for these challenges." stated Cortegra National Sales Manager, Leslie Love. "This folder enables Cortegra to offer greater capacity and more folding flexibility than ever before and supplements our combination piece solutions."
Companies in this article