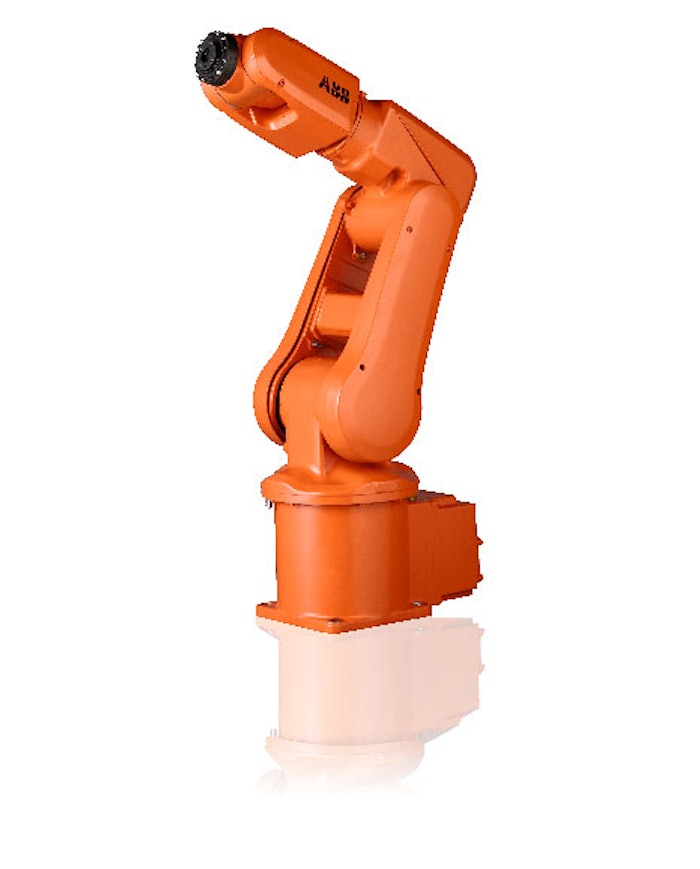 ABB Robotics
, has introduced its smallest ever multipurpose robot, the IRB 120. The new six-axis robot has all the functionality and advanced design features of ABB's larger robots in an economical, lightweight model that will provide agility, accuracy and speed to a broad range of applications where a smaller footprint and profile are required. Weighing just 25kg (55 lbs), the IRB 120 has a standard payload of 3kg (6.6 lbs), a vertical wrist payload of 4kg (8.8 lbs), a reach of 580mm, a best-in-class stroke of 411mm and the ability to reach 112mm below its base. The IRB 120 is available with a new compact version of the industry-leading IRC5 controller, making it easy to program and control for a variety of tasks. The Compact IRC-5 is fully compatible with the standard and panel mount IRC-5 controllers.
With superior motion control and outstanding path accuracy, the IRB 120 will be the cost-effective choice for material handling and assembly of smaller parts, delivering compact performance to a variety of industries including electronics, solar, food and beverage, machinery, pharmaceutical, medical and research. Additionally, the IRB 120 is:
• The most accurate 6-axis robot on the market with a repeatability of pose (RP) of 0.01mm; competitive 6-axis robot models feature an RP of 0.02mm.
• Easy to integrate into new and existing lines. It can be mounted at any angle, either in a cell, on top of a machine or in close proximity to other robots on the line. Wall- and invert-mounting saves floor space and optimizes working range.
• Extremely nimble, featuring a compact turning radius on axis 1, allowing it to be mounted close to application process machines.
• Easy to clean and maintain with internal cabling and smooth surfaces.
• Designed with a light, aluminum structure, with powerful motors that ensure fast, accurate acceleration.
"The IRB 120 is a great fit within our overall portfolio, serving the growing demand for fast, compact robots that deliver high performance at an attractive price point", said Kirk Goins, senior vice president, ABB Robotics Division, North America. "It will help us continue to serve the expanding base of general industrial manufacturers that are experiencing the great benefits of robotic technology."
The desktop sized IRC5 Compact extends the IRC5 controller family in a portable model with the same industry leading functionality. This includes superior path motion, user friendly FlexPendant programming, flexible RAPID language and powerful communication capabilities. Further enhancing its ability to improve productivity, the IRB 120's motion control and best-in-class path accuracy are ensured through the advanced dynamic modeling of the controller, featuring QuickMove™ & TrueMove™ motion control software. Using the new controller with the IRB 120 ensures predictable, high-performance robot motion combined with a speed independent path.
The IRC5 Compact controller also enables easy commissioning through the one-phase power input, external connectors for all signals and a built-in, expandable 16 in, 16 out I/O system. The system also supports the use of RobotStudio for offline programming and Remote Service for on-line condition monitoring. This allows manufacturers and integrators to optimize cell design and helps prevent costly downtime or production delays.
In a second phase, the IRC5 Compact controller is scheduled to be released in 2010 for other ABB robots such as the IRB 140 and IRB 360 FlexPicker.
Companies in this article