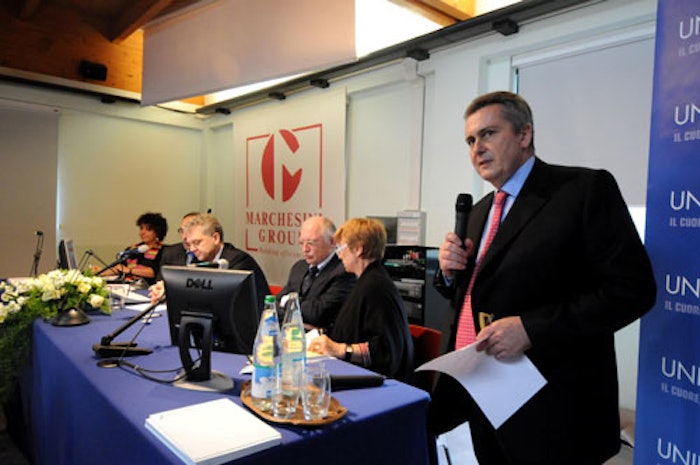 The Vice-President of the European Committee, Mr. Günter Verheugen and the Minister for Trade and Industry of the Russian Federation, Mr. Viktor Borisovich Khristenko, visited the headquarters of Marchesini Group in Pianoro (Bologna) on the 20th November.

That of Pianoro was just one of the legs of the tour in Emilia Romagna of the Russian Minister, Mr. Khristenko and of the Vice-President, Mr. Verheugen. Their trip was organized by the Representatives of the European Committee in Milan in collaboration with the Industrialists Association Delegation in Brussels and the Industrialists Association in Emilia-Romagna. The idea to visit Marchesini was fostered by Mr. Verheugen himself during a meeting with the Vice-President of the Industrialists Association for Europe, Mr. Andrea Moltrasio.

Model Emilia, the Russians study the regional district of advanced mechanics.
The advanced mechanics industry of Emilia-Romagna has been chosen as a model of excellence in terms of "business cluster" at a European level. The industry - which brings together various segments, among which automatic machinery, packaging, tile-manufacturing machines, food processing machines, meccatronics, automotive, motorcycles, machine tools and wood working machinery - boasts approximately 20 thousand regional businesses. 95% are small and medium sized enterprises and 54% represents the regional export share. It contributes in the regional GDP of the manufacturing industry by roughly 40%.

The visit to Marchesini Group

During the press conference held in Bologna, at Marchesini Group Spa, the Vice-President, Mr. Verheugen and the Russian Minister, Mr. Viktor Borisovich Khristenko explained how the initiative fits into the context of the actions fostered by the Committee with the aim to reinforce business relations between the EU and Russia in the field of industrial politics and to illustrate the examples of best practices fulfilled in the various countries of the European Union.

At this important meeting Mr. Maurizio Marchesini, CEO of Marchesini Group and President of Unindustria Bologna, was accompanied by the Vice-President of the regional Industrialists Association, Mr. Mario Riciputi and Mr. Carlo Corazza, Director of the Representatives of the European Committee in Milan.

"The initiative - the Russian Minister Mr. Khristenko commented - will continue to develop cooperative relations between Italy and Russia. I was impressed with what I saw during my visit to Marchesini Group. We came to Bologna to study the advanced mechanics that distinguish this area and a model that has over thirty years of experience. We are convinced that it is what we need to do in our country too and we are indeed moving in this direction taking reference from the situation in Emilia". "I am enthusiastic - Mr. Verheugen added - with what I have seen here at Marchesini Group and I trust that Europe will continue to aim at innovation".
Companies in this article