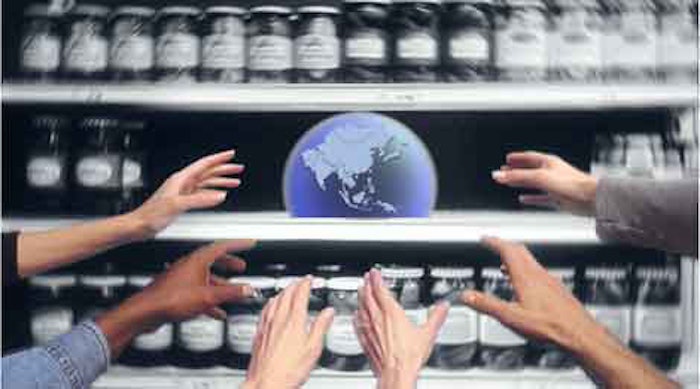 MNCs, such as Pepsi Co, Coke, Nestle, P&G have all announced multi million dollar regional investments. Local brand owners, driven by competition and shifting global alliances, are looking for cheaper packaging solutions. Local Asian printer-converters have to tender against incoming global packaging players to hold onto domestic market share and grow their business.
As a regional packaging specialist with an FMCC lamented. "By next year we will have more than 30 new hires on our Asian packaging team - where do we find qualified local staff? We'll do what everyone else is doing - steal from our competitors! It isn't a healthy way to grow the industry."
According to Stuart Hoggard, a 15-year veteran of the Asian packaging scene, CEO of EP Resources Pte Ltd the publisher of
PackaWebasia.com
, the online packaging supply chain resource, "Asia has no trade-school packaging programmes, apprenticeship schemes don't exist. Industry is under pressure to deliver quality packaging in compliance with global standards, yet most managers and executives in the supply chain have no formal packaging background, whether they're with an FMCG, regional or local brand or packaging supplier."
"For years the lack of fundamental packaging training has been a consistent industry complaint" says Stuart. "Flexibility is a major concern - Asia is a long way from the European and US formal training centres and industry in the region rarely has the luxury to fund overseas sabbaticals.
"Training courses have to be delivered at the convenience of industry, on-site and in-house, wherever in Asia there is the operational requirement."
In-house On-demand
Following industry feedback, EP Resources, has developed essential packaging training programme in a flexible modular format for in-house, on-demand, professional training.
The Packaging Business Training Programme is designed around three course subject areas: Packaging Foundation (Packaging 101), Packaging Business Awareness (200) and Packaging Technology (300), each comprising units that can be taught at Foundation, Intermediate or Advanced levels. Modules can be customised to deliver the exact topics required, delivered as stand-alone courses or dove-tailing into existing internal training programmes.
To ensure relevance to Asia's industry, EP Resources teamed up with former Unilever packaging specialists, Paul Clegg and Simon Fisher, to develop credible programmes drawing on more than 80 man-years of real-world packaging industry expertise.
"When they join industry, most packaging graduates know a lot about material science, but very few understand the commercial realities of production." says Paul Clegg, until recently Global Packaging Director at Unilever, co-designer of the core material technology training units. "Understanding the cost drivers and implications is vital to the success of any operation wherever in the world it is, however in Asia the need is more acute."
With more than 30 years top management industry experience, Paul has managed many training programmes "It is important that packaging training has cost structures as the core.
"For example, when we teach about rigid packaging materials and production, it is not enough just to explain the processes of Blow Moulding, Injection Moulding, Injection Blow Moulding and Injection Stretch Blow, when and why to use them. We also have to examine the cost implications, offer alternatives and show how cost modelling can significantly reduce costs without always hammering the supplier on price."
Packaging Procurement
Effective commercial packaging procurement lies at the heart of any operation on a global or local level.
According to Simon Fisher, a 30 year packaging procurement professional, until recently Unilever Asia's Bangkok based Director of Supplier Management for Packaging "The biggest fear senior executives have is that their buyers don't know what packaging material should cost, or don't have the skills to get the best deals. Unfortunately, frequently they don't have either!
"When we purchase packaging we have to understand the cost influencers of different pack formats, feedstock prices and how to control them - particularly when managing a product launch or re-launch.
"Evaluating supplier capability is crucial in the Asian context, where relationships are considered to be an important factor in business," adds Simon who designed and delivers the course commercial packaging training modules.
Selling to MNCs - a dark art revealed
Asian packaging manufacturers seldom understand how to develop relationships with multinationals "There are many perfectly competent, quality Asian manufacturers who are not getting the business because they don't understand the inner workings of the global FMCG" says Simon "Providing them with an introduction to what many see as the 'dark art' of procurement is a vital part of an overall industry upgrade.
"Identifying the key decision maker is the first step. But there is a basic problem, once the salesman gets his foot in the door, he believes he is driving it the process. But the view of the buyer is very different - he doesn't want anyone selling to him. He wants to drive the procurement process!" adds Simon "This might sound nonsense, but there is a big difference in attitude. If the Seller understands the Buyer's approach he is much better placed than most of his competitors to win the contract."
In order to provide an even playing field the module 'How MNCs Buy Packaging' is an essential introduction for suppliers looking to get their foot in the door and equally relevant for local or regional brand owners in understanding how the MNC obtains the competitive edge!
Print Control
"Most art and design colleges in Asia rarely mention design for packaging, or commercial printing in the syllabus. It isn't surprising that there is huge wastage and cost over-runs at the print production stage." Says Stuart Hoggard, a print specialist journalist and founding co-publisher of the industry technical journal Flexo&Gravure Asia Pacific.
"Significant savings can be made by simply familiarising everyone in the design and production chain about when and why each of the print processes are deployed, their advantages and limitations: Offset, flexo, gravure, screen, dry offset and digital. Informed decisions should be made before the design brief is handed out, designers should execute to maximise the print process capabilities. Stuart designed the Print Management & Control modules to address the knowledge gap "Printers deal in absolute calibrated values, achieving a perfect print is not a matter of opinion but a science. Nobody should perform a press approval without the required knowledge and tools."
Enthusiastic Response
Industry response to the 'soft-launch' of the Packaging Business Training Programme has been enthusiastic. EP Resources is finalising the delivery of customised training programmes in Indonesia in late 2009 and in Shanghai in early 2010.
The training courses are designed to be customised according to a company's direct need, either as one-off highly focussed courses for specific departments or as a company-wide comprehensive programme delivered in-house and on-demand.
Companies in this article