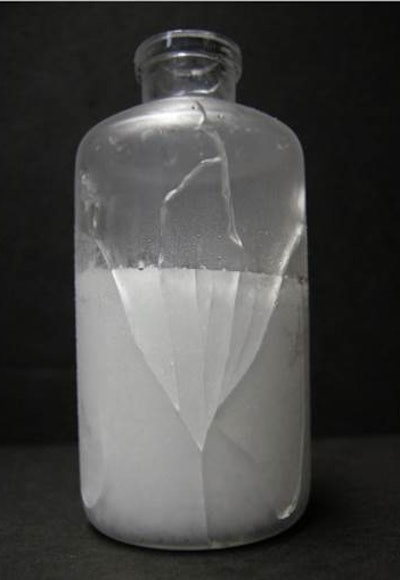 Glass has many properties that contribute to it being an appropriate material for parenteral drug packaging:
Rigidity and durability

Stability and compatibility with filling and shipping processes

Ease of cleaning and sterilization

Gas impermeability and maintenance of container closure integrity
However, like all packaging materials, glass is not perfect. Some drug formulations can cause delamination (e.g., those with a high pH or containing certain buffers), and, of course, glass can break.
Glass breakage can result in processing downtime, an increased number of production interventions, increased particulate load, and potentially a loss of product. In the worst cases, patients can be put at risk due to lost or improper doses, loss of container closure integrity (including possible sterility failures), or injury from glass shards and particulates.
Glass is inherently strong, but the condition of its surface plays a major role in its resistance to breakage. For glass to break, significant stress and a critical surface flaw must be present at the same place and at the same moment. Stress, whether from an applied load, impact, or thermal shock, is temporary and the glass container will retain its initial integrity and strength once the stress is relieved. Surface flaws, however, are permanent once induced and render the container vulnerable to breakage in the future due to applied stresses.
It is inevitable that as any glass container is handled through pharmaceutical processes, it is vulnerable to surface damage. Good handling practices can preserve glass's inherent strength, whereas poor glass handling practices can significantly reduce the practical strength of glass containers. As noted above, if surface damage is induced early in the manufacturing process, it may manifest itself as a failure of the glass later in the process or in the field as the container is subjected to subsequent stresses (e.g., shipping, temperature changes and impact).
To aid the pharmaceutical industry in avoiding glass breakage-related issues, PDA member volunteers are currently drafting a technical report focused on best practices and methods for evaluating a company's glass handling methods. The authoring team aims to provide a technical understanding of glass strength and its limitations and also provide guidance in good handling practices for glass vials throughout the pharmaceutical process. The discussion will cover the process from receipt of the containers to storage, preparation, filling, stoppering, freeze drying and capping. This upcoming technical report will focus on where and how surface damage and excess stresses may occur during the processing and handling of glass vials. The report will also present typical pharmaceutical glass handling processes and identify areas of concern. Recommendations will be included for processing line and equipment enhancements as well as guidance and practical approaches through procedural controls to better utilize existing, installed equipment.
This technical report is expected to be released in late 2017. More information, including how to access this technical report, will be shared as it becomes available.
Companies in this article