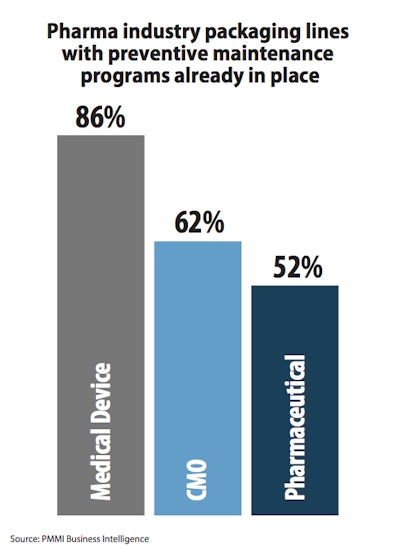 Vision: 62% of pharma packaging and processing lines employ vision. While only twenty-three percent of CMOs reported using vision.
Respondents desire changes including: more intuitive set up, faster read rates, reduction of false rejects with failure mode analysis, and improved data collection and reporting.
One medical device engineer said, "Would like to see more PC based HMI. Vision should be everywhere on the line to verify lot codes and inspect labels, with both detection and rejection capabilities…"
Preventive Maintenance: Slightly more than half of pharma companies reported following preventive maintenance schedules as opposed to sixty-two percent of CMOs.
"There will be massive growth in preventive maintenance to improve uptime," reported one pharma VP of manufacturing.
Desired improvements in PM include: better access to the machine, life cycle reporting on parts, universal part replacement, improved data collection on machine efficiency, and clear instructions on HMI tied into status bar with dashboard display.
Remote Diagnostics: "The reins on remote diagnostics are starting to loosen now due to serialization and to eliminate the high cost of service travel—its most important for complicated machinery or offshore equipment," said a maintenance manager in pharma.
Sixty-two percent of pharma respondents currently employ remote diagnostics with another twenty-nine percent planning to explore in the future.
For more on OEE, Mark Hanley from Land O'Lakes and Diana Franciosa from GlaxoSmithKline discuss OEE with Joyce Fassil, Editor-in-Chief, ProFood World in this archived webinar from PMMI's OpX Leadership Network.
Source: PMMI Business Intelligence, Pharmaceuticals and Medical Devices 2016: Trends and Opportunities in Packaging Operations.
Click here for the entire 58-page report.