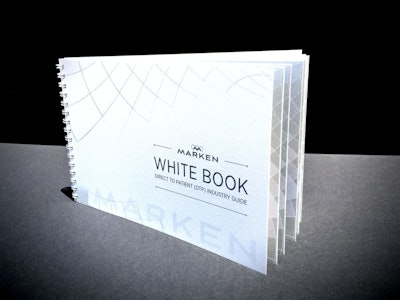 Marken today announced it has launched a new hybrid logistics service which leverages the UPS global transportation network, and has already received customer commitments for the new service. The hybrid service enables Marken to utilize the UPS network, including its expansive airline, for a portion of the route. The hybrid offering reduces reliance on commercial aircraft for many routes, and when using the UPS airline, Marken can enhance the quality and value proposition of their service. Hybrid solutions involving a mix of dedicated and common carrier fleets have been offered in the past, but this is the first time the specialty and integrator services are owned by the same parent company, ensuring seamless integration, superior visibility and dedicated customer care.
An undisclosed client recently awarded a contract for hybrid services to Marken only a few short months after the UPS acquisition. For this customer, Marken collects shipments of biologic material from sites inRussia, consolidates them inMoscow, and transports them to their final destination using the UPS airline, which flies fromMoscowto its hub inCologne, Germany, and onward to all European destinations. With the hybrid solution, clients can trust Marken to manage the entire service process with its high touch service, employing the most cost effective transport modes and lanes to manage the shipments. Similar hybrid solutions are being designed for customers inMexico, theUnited Kingdomand continentalEurope.
Marken has also developed a reverse logistics hybrid service for efficient return of re-useable packaging and tracking devices. This service is now being offered to clinical trials clients who prefer Marken's specialized outbound delivery for sensitive clinical drug products using traditional routing, but who can also use UPS for the return of reusable materials. This new service minimizes reverse logistics costs for non-critical items.
"We want customers to think of Marken as the clinical subsidiary of UPS," saidWes Wheeler, Marken's Chief Executive Officer. "We intend to continue executing on our strategy to be the supply chain service provider of choice for the clinical trials community, and to expand our broad range of services supporting the movement of clinical drug product, clinical drug substance, medical devices, biologic samples and other regulated materials."
"Our traditional specialty services, which our clients have come to expect, remain in place as our core offering. With UPS behind us, we are now able to expand our services to include hybrid and integrator services as well," added Wheeler. "We will maintain responsibility for the client relationship while leveraging UPS global transportation network and solutions capabilities when we can offer improved service or greater value."
According toGeoff Light, UPS President of Healthcare Strategy, Marken can now offer their clinical clients more full service solutions. "Wes and his team have worked very closely with us following the acquisition to fully appreciate the breadth of the UPS network and its capabilities. We continue to work together to refine the solutions offered to clients. We are confident that our customers will find tremendous upside when choosing logistics solutions that take advantage of the efficiencies of Marken and UPS working together."
Companies in this article