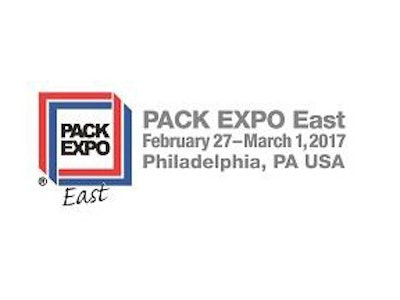 Just over a month away, more details are available on the extensive offerings at PACK EXPO East 2017 (Pennsylvania Convention Center, Philadelphia, Feb. 27–March 1), produced by PMMI, The Association for Packaging and Processing Technologies.
The three-day event features over 400 exhibiting companies and spans more than 100,000 net square feet, providing the opportunity for attendees to exchange ideas with 7,000+ peers. Key exhibitors include companies like Delkor Systems, BluePrint Automation (BPA) and Ryson International to large, multinational exhibitors such as Bosch Packaging and Siemens.
Its location in Philadelphia places PACK EXPO East within 200 miles of one-third of U.S. consumer packaged goods companies (CPGs), including arguably the country's largest concentration of life science and pharmaceutical industries. The intimacy of a regional event allows attendees and exhibitors to spend quality time understanding each other's operations and the challenges both sides of the table face.
In addition to a strong index of exhibitors, top-notch educational opportunities await those attending. Innovation Stage sessions offer free, show floor education to attendees and the two-day Healthcare Packaging and Processing Conference (Feb. 27 and 28) will feature keynotes, education sessions and technology workshops touching every facet of the industry.
Each 30-minute Innovation Stage session offers a look at breakthrough technologies, innovative applications and proven techniques, giving attendees an opportunity to learn from industry experts on topics such as One Cable Automation, EtherCAT P Technology and Hygienic Conveyors. Presentations from PMMI's OpX Leadership Network will offer insight on validation activities needed specifically for baking processes, as well as delivering effective FATs.
The Healthcare Packaging and Processing Conference will be of particular interest to life science processing and packaging professionals. Keynote sessions include a presentation by Ron Yakubison from Merck & Company about succeeding as a packaging professional in the future (Feb. 27), as well as a presentation by Guido Schmitz from Bayer AG about holistic design in pharmaceutical packaging (Feb. 28).
Structured around nine tracks of sessions and technology workshops, the first day of the program highlights Serialization, Packaging Challenges and Strategies for Success Materials Testing, Packaging Machinery Automation, Government Regulatory Updates and Packaging and Processing Automation Control. Day two tackles Track and Trace Unique Device Identifiers, Supply Chain Security and Temperature Management, Serialization Pilot Tests and CMO's Role, as well as Life Sciences Processing.
The robust conference program makes PACK EXPO East the most efficient way to find innovations that serve pharma with the potential to cross-pollinate other industries. Conference registration is $95 per seminar through Feb.10, when the price increases to $130 per seminar. A show badge is included in conference registration.
Registration for PACK EXPO East is $30 until Feb. 10 when the price increases to $100. Don't miss your opportunity to experience machinery in action, forge meaningful relationships with peers, gain expertise via educational sessions and so much more. Register online at www.packexpoeast.com.