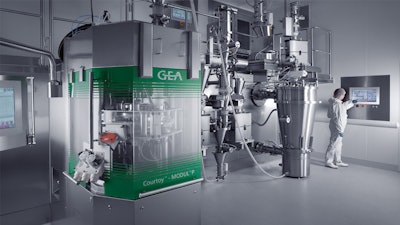 In an effort to ease the transition from batch to continuous manufacturing in the pharmaceutical industry, Siemens and GEA announced a partnership today that will deliver a turnkey system to minimize the risk associated with migrating to new technology.
The pharmaceutical industry is evaluating how to modernize manufacturing processes, and, for many, the move from batch to continuous processing is at the top of the "to do" list. Continuous manufacturing (CM) allows for an uninterrupted flow from starting materials to synthesis to final dosage form. This is a change from the traditional method of working with batches that go through a quality check at each stage.
Continuous manufacturing processes can also reduce drug development timelines and enable the creation of precision medicines that meet a patient's individual needs. But, while some companies like Vertex and Janssen have already received FDA approval to perform drug production on a CM set up, overall the industry is resisting the difficult technology transition.
That's where collaboration between Siemens and GEA could help. The system includes GEA's ConsiGma continuous tableting line that can perform dosing and mixing of raw materials, wet or dry granulation, drying, tableting, coating and quality control all on one line. Integrated in is Siemens' Simatic Sipat process analytic technology (PAT) that provides data collection, data mining, data monitoring, control and reporting. With PAT, product development and production processes can be monitored, controlled and optimized by measuring and calculating the Critical-to-Quality Attributes (CQA's) of the end product in real-time.
"Amalgamating our state-of-the-art continuous processing technology with Siemens' automation systems allows us to further support the US Food and Drug Administration's Pharmaceutical Quality for the 21st Century program and help pharmaceutical companies to adopt continuous manufacturing technologies and modernize their production infrastructure," said Frans Maas, vice president of APC Pharma Solids at GEA. "Together, our combined experience and expertise will provide significant industry benefits as pharmaceutical manufacturers transition towards continuous manufacturing."
Companies in this article