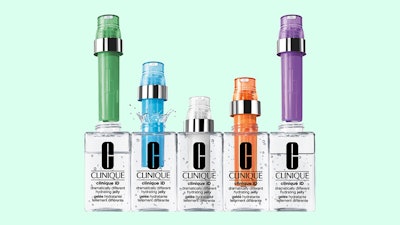 The Institute of Packaging Professionals (IoPP) announced its 2019 AmeriStar Package Awards Competition winners June 4, 2019.
This year, judges considered more than 50 package entries across 17 categories for both professional and student awards, as well as AmeriStar's prestigious top three awards, the Sustainable Package Award, the Design Excellence Award and the Best of Show Award. In all, 27 winners were selected as recipients.
Here are IoPP's announcements and descriptions for winners in health, device and personal care:
Category: Best of Show Award
Clinique iD by Estée Lauder Companies is a unique dual pump package that delivers lotion and concentrated serum in one push of the actuator. The consumer gets the choice of buying multiple lotion types and combining them with serum cartridges to address specific skin needs.
Category:Drug and Pharmaceutical
An elegant child-resistant packaging solution by Duallok was developed to provide the most beautiful, user friendly and compliant package for high-end controlled substances. The patented double-lock design, certified under the 16 CFR 1700 guidelines for child resistance, keeps kids safe and brands compliant.
Target Simply Balanced Vitamins by TricorBraun was developed as Target Stores chose to enter the upscale nutraceutical market with Simply Balanced™ vitamins in premium packaging. The design is a three-piece solution that attracts consumers with different shapes, colors and color combinations in fully recyclable materials. The bottle features a differentiating oblong shape and wider mouth for easier dispensing, as well as a half-turn, push-and-turn, child-resistant closure to improve safety.
Category: Health and Beauty Aids
Korrvu® Inserts for Fragrance Packaging by Sealed Air can be formed over a range of products, creating a versatile and dynamic option to replace traditional vacuum-formed molds. This curbside recyclable packaging solution meets the growing e-commerce demand for sustainable product protection while maintaining a luxurious, high-end look.
L'Oréal Paris Elvive Rapid Reviver by Viva IML Tubes utilizes Viva's state-of-the art label graphics with true, full-coverage, eye-catching, metallic accents and a parabolic 'iconic crimp'. The tube itself has a positive sustainability theme with low-emission lifecycle and a fully recyclable total package.
Category: Medical Device
ORTHOFIX Medical Tray by Placon takes design and innovation to the next level with leading sustainability focus on stock and custom retail, food and medical packaging. This custom tray keeps the medical screw suspended to prevent HA coating damage.
Category: Other
Klearfold Keeper CR by HLP Klearfold is the first of its kind, clear, certified child-resistant package for medical and recreational cannabis. Cannabis product producers can now enjoy the marketing and merchandising benefits of clear plastic packaging, while satisfying the CPSC criteria for child-resistant closures. Through the CPSC CR certification process, it became apparent that test-subject children (42–51 months old) were more motivated to breech the Klearfold Keeper CR package because they could see its contents. In order to stand up to this extra attention, the Keeper CR had to provide a higher level of security than paperboard CR packages.
Allergy Relief Nasal Spray by GlaxoSmithKline (GSK) is in keeping with the sustainability initiative that GSK is passionate about and committed to in their packaging strategy. GSK is implementing several improvements that are approved by the respective health authorities while yielding an overall improvement in sustainability and considerably reducing the use of plastic packaging and their carbon footprint of up to 50 percent in some scenarios.
Category: Student
Third place went to Halo, which takes deodorant packaging to a new level, reducing the amount of material and creating a simple new design that is easy to use for the consumer.
For more info...
Full information about each of the 2019 AmeriStar Award Winners is available online.
Visit IoPP at booth C-1159 at PACK EXPO Las Vegas 2019 (Sept. 23–25) where a joint reception and ceremony honoring the AmeriStar Award winners will take place.
PACK EXPO Las Vegas attendees who visit the IoPP booth and/or the Showcase of Packaging Innovations will have the opportunity to vote on-site for a special "People's Choice" AmeriStar Award winner to be announced at the reception ceremony.
Companies in this article