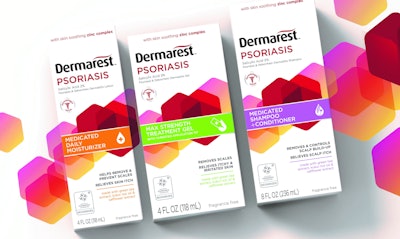 As a marketer and distributor of brand-name over-the-counter healthcare and household cleaning products throughout the U.S., Canada, Australia, and other international markets, Tarrytown, NY-based Prestige Brands appreciates the significance of package design—and redesign.
Sometimes package design must do the heavy lifting in terms of addressing consumer perceptions. That's the case with the company's newly redesigned packaging for Dermarest® products, which provide relief from the symptoms of psoriasis.
"Psoriasis can be uncomfortable to live with, often leading to embarrassment from smelly creams with overly scientific names," explains Veronica K. Hoffman, the company's Associate Brand Manager—Household. "Dermarest is a more beauty-like OTC experience and we wanted to convey that through visually distinguishing the product variants, usage occasions and usage experience in a really sleek and modern way."
Mayo Clinic describes psoriasis as "a common skin condition that speeds up the life cycle of skin cells. It causes cells to build up rapidly on the surface of the skin. The extra skin cells form scales and red patches that are itchy and sometimes painful." A recent Grand View Research report says psoriasis affects nearly 7.5 million people in the U.S., or about 2% of the population, with "approximately 100,000 new cases registered and reported every year."
Branding agency addresses challenges
Prestige Brands has sold Dermarest products since 2014 following its acquisition of Insight Pharmaceuticals LLC. Hoffman notes, "Dermarest's previous package design had been on the market for a while across multiple variants of the product. We believe that you shouldn't have to hide away your skincare products just because they are helping to treat a condition as well."
Seeking to remedy the situation, Prestige Brands turned to Smith Design, and began working with the branding design agency in late 2016. Though Prestige Brands had not previously collaborated with the agency, Hoffman says some Prestige Brands team members had worked with them in previous companies and spoke highly of them.
Dermarest Psoriasis is available in three product varieties: Medicated Shampoo + Conditioner for treating the scalp area, Medicated Daily Moisturizer, and Max Strength Treatment Gel with Targeted Application Tip for spot treating. Packaging includes an outer IFC (Individual Folding Carton), which contains a labeled bottle. Smith designed both the IFC cartons and the inner labels/wraps for the bottles. Prestige Brands preferred not to divulge packaging material supplier names or specifications other than to say carton graphics are printed via a four-color process.
Smith Design says the challenge in refreshing the Dermarest family of topical psoriasis treatments involved clearly differentiating each product, while maintaining key equities that have made Dermarest a brand consumers trust.
"We evolved the hexagon pattern into a new vibrant design that feels contemporary, premium and efficacious,"says Jenna Smith, Smith Design President."The new color-driven design systemcelebrates the breadth of their line, makingit easy for consumers [to differentiate] betweenshampoo, moisturizerand gel." Smith saystelegraphic icons and clear benefit call-outs are used "tohelp reassure consumers that their skin will soon be at ease."
Dermarest products are distributed at many retail locations including drug, mass, e-commerce and food stores. Prices vary, and are set by retailers, Hoffman says. "It's a little too early to measure its sales impact, but we feel confident that this new design will appeal to both existing Dermarest users and new users of the brand. We feel as though this new packaging is very eye-catching and meets the objectives we had for the brand strategy."
Companies in this article