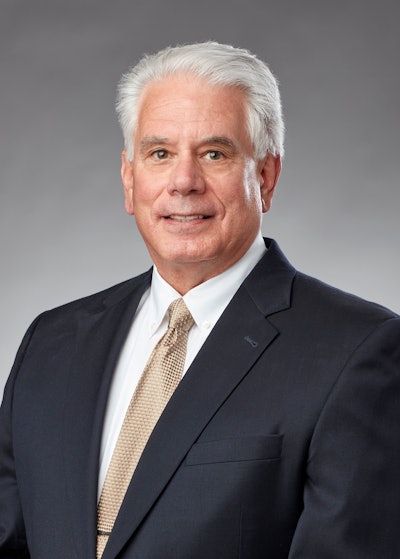 This content was written and submitted by the supplier. It has only been modified to comply with this publication's space and style.
MG America, the U.S. subsidiary of MG2 of Bologna, Italy and a leading supplier of processing and packaging equipment, has named Claudio Radossi as its next president, effective July 1st. Mr. Radossi succeeds company co-founder Fabio Trippodo, who is retiring after a long and successful 35-year tenure as MG America's president. The announcement was made by the Board of Directors at MG2, the Italian parent company of MG America.
From 1995-2015, Mr. Radossi had served as MG America's Director of Sales, before departing to take ownership of EMSE Corporation, a leader in medical air and vacuum systems for healthcare facilities. He is returning to MG America after a seven-year term as President of EMSE, which is also based in Fairfield, NJ.
MG America was established in 1987 by MG2 and Mr. Trippodo, who had been an employee of MG2 since 1975, was named President by Mr. Ernesto Gamberini, President of MG2 in Bologna, Italy. Under Mr. Trippodo's stewardship and backed by the constant support and strong reputation of the MG2 brand, the company steadily grew to become a respected leader in the pharmaceutical manufacturing space, providing a range of processing and packaging equipment to customers across North America.
"We worked extremely hard in the early years to establish name recognition, and to build the trust of the customers we serve," said Trippodo. "It has been a privilege to lead our US-based team through the decades, and I am truly thankful to all those who've helped make our journey a successful one."
"I am honored to take on this new role, and to succeed my long-time friend and colleague as just the second president in MG America's celebrated history," said Mr. Radossi. "The company's substantial success has always been a team effort, and I look forward to collaborating with – and depending upon – the talented team we've built through the years. Together, MG America will continue to evolve and strengthen our leadership position in the marketplace."
"My family and I are grateful for the expertise and passion that Fabio provided to the development of the MG2 brand in the North American market," said Mr. Ernesto Gamberini. "It is with enormous pride that we welcome Claudio Radossi onto our team as he accepts the challenge presented by this succession. We are certain he will continue to enhance the growth of MG America as a premier supplier of solutions to the markets we serve."
Mr. Radossi graduated from Farleigh Dickinson University with a degree in Mechanical Engineering, and resides in Ridgewood, New Jersey.
Companies in this article