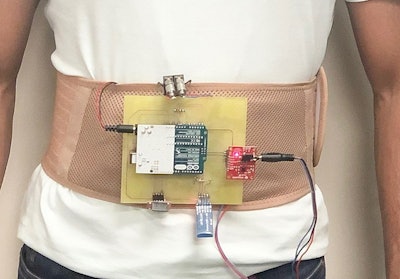 Florida Atlantic University
When you think of a utility belt, you probably picture a construction worker whose belt houses the tools of their trade. According to a recent Medgadget article, there's a new kind of utility belt that is just as useful, but for a different reason. Researchers at Florida Atlantic University created a smart belt that monitors heart failure patients for signs that their disease might be progressing. It measures heart rate, thoracic impedance, electrocardiogram, and motion to provide data on the patient's status. The belt has been tested on patients going about routine activities like sitting, lying , standing, and walking with promising results.
Roughly 1 in 4 heart failure patients are readmitted within a month of hospital discharge, and nearly half return to the hospital within six months. With more than six million Americans living with heart failure, the goal is to reduce hospital readmission by identifying issues early and before they can progress. A video with more information can be seen here.