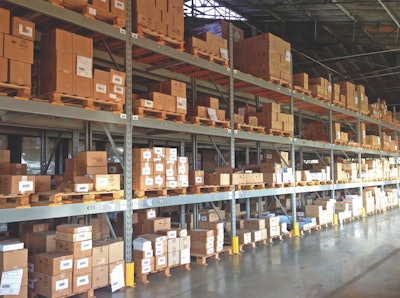 New benchmarking data released by the HDA Research Foundation reveal the continued efficiency and reliability that HDA specialty distributors deliver to providers treating patients with chronic, complex, or rare diseases. As illustrated in the 14th edition of Specialty Pharmaceutical Distribution Facts Figures and Trends, a typical HDA-member specialty distributor delivered products to approximately 56,000 provider ship-to points daily in 2021.
Independent physicians account for the largest amount of unique shipping points, at nearly 18,000, followed by hospitals and hospital-owned clinics (nearly 16,000), retail pharmacies (10,200), and specialty pharmacies (7,400). Hospitals remained specialty distributors' largest customer segment, comprising an average 40.6% of sales volume, followed by independent physician-owned and operated clinics at 35.2%; the latter segment continues to see decreased year-over-year sales volume.
"The HDA Foundation's new Specialty Pharmaceutical Distribution found that while the second year of COVID-19 showed continued fluctuations in supply and demand for healthcare, specialty distributors largely remained a vital partner to providers — and helped ensure that the U.S. specialty pharmaceutical supply chain ran efficiently, securely and in a cost-effective manner," says Perry Fri, executive vice president of industry relations, membership and education, HDA; and COO, HDA Research Foundation. "Further, given the unique nature of these products, specialty distributors are equipped to handle a range of special handling requirements, while offering many value-added services to support the industry's diverse provider customers."
According to IQVIA, specialty products made up 49.8% of the total U.S. pharmaceutical market ($289 billion) in 2021. Specific to specialty distributors, oncology products comprised the greatest sales volume among all therapeutic classes, at 52.3% on average, aligning with a return to in-person office visits as the COVID-19 vaccine rollout took hold. Autoimmune and inflammatory products (11.6%) and supportive care therapies (7.2%) rounded out the top three therapeutic product categories by sales volume.
The 2022 edition of Specialty Pharmaceutical Distribution Facts Figures and Trends is available as a complimentary download from HDA.org.

HDA's Distribution Management Conference

The Distribution Management Conference (DMC) and Expo is HDA's largest supply chain education event, attended by more than 500 manufacturers, distributors, consultants and third parties who keep the pharmaceutical distribution industry moving. The conference takes place March 12-15 and immerses attendees in topics related to the healthcare supply chain and provides a forum to engage in operational and strategic discussions.
Join peers for a variety of educational sessions on healthcare supply chain issues and listen to updates from the pharmaceutical industry's leading experts. This year's event will feature more than 30 breakout sessions on key distribution issues ranging from DSCSA implementation/product traceability to specialty pharmaceutical trends, contracts and chargebacks, supply chain security, controlled substances regulations as well as legislative updates. You can choose from these educational sessions with practical lessons to implement in your supply chain operations.
Companies in this article