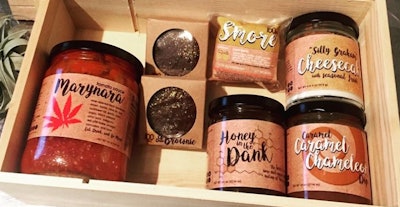 Before putting "Marynara" tomato sauce on your pasta, make sure it hasn't been tainted. A recent article from AZ Central says that four marijuana-infused food items available at a variety of Arizona dispensaries have been recalled including: Marynara Tomato Sauce, Dank's Redhot Sauce, Funny Mustard, and Spicy Highnz Ketchup.
Flourish Cannabis, maker of the edible food items, issued a voluntary recall citing packaging issues. During a routine inspection, health officials noticed the marinara sauce was being canned, not refrigerated as required by county regulations. Peyton Curry, founder of Flourish, stressed that although he was unaware of the regulations, there is nothing dangerous about the food. "There have been zero returns of illnesses (reported). We have had no customer complaints."
Coconino County health officials also noted that the items had not been tested for pathogens, which could lead to gastrointestinal illness.