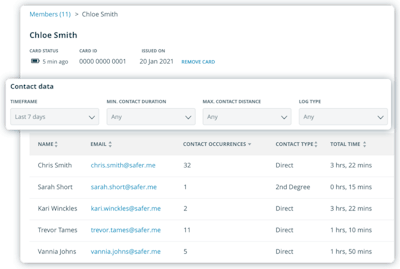 SaferMe Bluetooth-enabled wearable contact tracing cards are now monkeypox ready. The contact tracing cards deliver instant data that allows contact tracers to prioritize the most at-risk people, minimizing the likelihood of false contacts being traced.
The contact tracing devices transmit Bluetooth low-energy signals to each other, without sharing location information or storing personal information about the wearer. Users carry the cards on a lanyard, belt clip, or pouch while at work. An employee with a probable case of monkeypox, or any virus, pushes the button on the card to share data with administrators, so they can accurately determine the people with whom the employee has been in contact.
The SaferMe system allows administrators to filter for various distances, from 6 ft, which indicates direct face-to-face contact has happened, to a maximum distance of 50 ft.
Contact data stored on each card is automatically deleted after 21 days. All data exchanged between cards, during synchronization and processing, is encrypted using the AES-128 standard or better, including the use of rolling keys. Only the client's authorized users can view the contact tracing data.
The cards have a shelf life of 18 months following delivery. Once activated, they operate for 1,300 hr over a minimum of 6 months assuming normal use of 10 hr per day, and five days a week. The cards are water- and dust-proof to standard IP67.
"Automatic contact tracing is a new technology that offers businesses the opportunity to rapidly respond to any viral outbreak among employees. Telephone tree calling systems, used during the initial outbreak of COVID are outdated and unproductive," says Clint Van Marrewijk, founder and CEO of SaferMe. "These small disposable devices now provide business owners, HR, risk, and business continuity managers with accurate information via an automated system. It ensures they do not overreact when they identify a case. This can cause the isolation of too many people and a shutdown of operations when it's not necessary. Accurate data enables an accurate response."