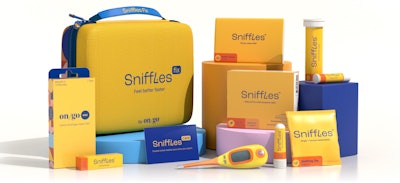 There are more than a billion cases of colds reported each year in the U.S. and only 10 % of patients get treatment. This results in an ever-recurring cycle of cold and flu that leads to increased strain on families, doctors, employers, and government, according to research done by Intrivo™, a digital health company and parent company of On/Go. Unplanned PTO and over-the-counter medicine add up for both employers and employees.
On/Go™, a health technology platform known for its rapid response to the pandemic and at-home rapid COVID-19 test-to-treat solutions, has launched Sniffles™, a direct-to-consumer (D2C)home care medication kit, designed as an affordable option to ease symptoms of cold/flu and other upper respiratory conditions. As an e-commerce and telehealth option, On/Go also aims to mitigate the spread of illness and viruses. This products are meant to help users sleep better, reduce fever, get congestion relief, soothe an itchy throat, calm dry and chapped lips, relax, and boost the immune system.
"Extending into Sniffles to help with upper respiratory diseases is a natural extension of our solutions to help address the more than one billion colds Americans have a year," says Adrian Greystoke, COO of Intrivo.
Package materials and design
A Sniffles kit is made up of the following packaging and materials inside a zipped case:
Paperboard cartons housing the COVID test, multi-symptom box, and lozenges
Foil pouch for tea sachets
HDPE tube for immunity tabs
LDPE tissue bag
Polypropylene for the nasal inhaler and lip balm
All packaging is designed in-house and produced from American and Chinese components with partners creating these products specific to On/Go (Editor's note: Package suppliers could not be named). Certain components, such as the Genius smart thermometer, are stocked as additional separate SKUs do to their success among consumers.
A trusted contract 3PL that has a multi-year relationship with the tech company performs On/Go's kitting, assembling the products in the US. On/Go quality assurance experts are even embedded within the contract 3PL.
The package aesthetic takes inspiration from first-aid kits and builds off of Intrivo's COVID-19 test packaging. The packaging is also designed to be reusable.
The company utilized extensive user testing to identify a palette to reflect its brand, says Greystoke. The colors are meant to inspire optimism, hope, and cheerfulness to encourage the consumer as they take the steps to remedy their symptoms.
"When people have Sniffles, they feel under the weather and our optimism in all our assets, including using somewhat whimsical figurines in our video assets, helps encourage appropriate use in a lightweight but impactful way," says Greystoke.
The font was also custom designed in house, incorporating Intrivo's "MOMA" pattern from On/Go that consumers can use to identify the kit and brand. The nose-shaped "L" in the brand name is an additional icon to help consumers understand the goal of Sniffles in helping cure upper respiratory illnesses.
Patient adherence and ease of use
Sniffles is designed for ease-of-use and includes a smart deep link QR code—sending users directly to an app vs. a website—that includes a discounted telehealth experience to encourage patient adherence.
Created as an all-in-one, at-home testing and medication kit for home care, Sniffles also eases telehealth access to 24/7 expert medical care. Telehealth services do not require insurance and are integrated with CVS MinuteClinic for in-person support.
A patient interested in using Sniffles would purchase a kit at home and complete the steps for diagnosis within the On/Go app once symptoms manifest. They would then be assessed by the On/Go medical team virtually or face-to-face with a CVS Minute Clinic clinician through the app. If appropriate, the provider will prescribe antiviral medication as well to be delivered to the customer's home.
Sniffles is available through rapid delivery retailers such as DoorDash, Amazon, and Walmart.com, as well as directly through On/Go app and Sniffles website.
"With learnings we've accumulated from serving more than 100 million people and years of research and development, we've created the most accessible all-in-one solution to rapidly tackle upper respiratory ailments. Through a combination of trusted essential medications, top-of-the-line devices, and 24/7 telehealth access, we're helping Sniffles users get diagnoses and have their symptoms treated rapidly, efficiently, and cost effectively," says Ron Gutman, co-founder and CEO of Intrivo and inventor of On/Go.