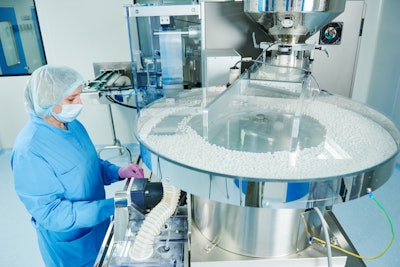 Rapid technology advances, developments of retail chains, and increasing R&D investments are among the factors augmenting the growth of the contract packaging. On the other side of the coin, in-house packaging, as well as increasing lead time and logistics costs, arehindering the growth of the market.
Contract packaging, the outsourcing of packaging activities to third-party vendors, reached a market value of $22 billion in 2016, and is projected to reach $39 billion by the end of 2021, demonstrating a CAGR of 10% over the next five years, according to new research from Mordor Intelligence.
The report says, "In the recent years, manufacturing companies tend to subcontract non-core services in which they don't have expertise to third-party vendors. However, over the past decade, the market has been witnessing a high growth owing to increasing focus on R&D among the pharmaceutical companies across the globe."
Mordor says the global contract packaging market has been segmented into primary, secondary and tertiary packaging services, as well as by vertical markets including beverages, food, pharmaceuticals, home and fabric care, beauty care and others.
In 2014, food and beverage led the market, but the research says, "The pharmaceutical industry is estimated to drive the market during the forecast period." Morder says, "Contract packagers work along with the product manufacturing companies and are regarded as an extension of their arm, On the other hand, for pharmaceutical products, stringent regulation posed by the government requires them to perform the activities in Class X clean rooms and as such, these activities are outsourced to contract packaging companies [that] have all the relevant infrastructure and expertise to perform these activities."
Other report factors include the following:
• In 2014, the U.S. was the major market for contract packaging, whileIndia is estimated to be the fastest-growing market owing to its cost competitiveness and quality packaging capabilities.
• Companies are opting for less number of vendors to take volume advantage and at the same time, reduce logistics costs across the globe. Several organizations are striving to minimize costs and reduce the product development time, while at the same time being productive and efficient.
• The contract packaging industry is estimated to have huge potential, with third-party logistics providers like DHL entering into this segment by providing secondary packaging services.
• With the arrival of 3PL providers, the industry dynamics are changing as companies are preferring 3PL providers for contract packaging over traditional co-packers since it reduces costs and lead time.