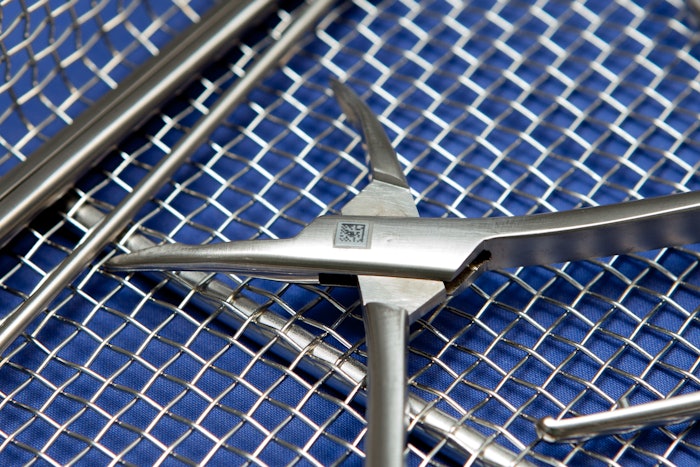 S+P Samson GmbH has selected Solvay Specialty Polymers' Radel® polyphenylsulfone (PPSU) film for the inlay of its new Structobond® labels for medical instrument and device applications.
Sandwiched between layers of S+P Samson's advanced epoxy materials, the thin but tough ribbons of Radel PPSU from Ajedium™ Films, the film division of Solvay Specialty Polymers, deliver exceptional steam and gamma sterilization compatibility, strong chemical resistance, and high contrast for imprinted data used for improved product identification and traceability of surgical instruments.
S+P Samson developed its medical device labels to address the industry's growing need for improved identification and management of surgical instruments in the operating theater. The FDA, for example, is proposing new regulations that will require hospitals to institute more stringent tracking and identification systems over the next two years. In addition to offering an economical solution, S+P Samson's durable labels enable broader options for more detailed and higher contrast images and data.
To create the labels, Solvay's 25-µm-thick Radel PPSU film is first marked with a dot matrix code, color, or other data through a high-contrast, digital thermal-transfer printing process. S+P Samson then encapsulates the PPSU film between two layers of its Structobond epoxy resin system, which S+P Samson developed in partnership with Germany-based Lohmann GmbH & Co KG. The bottom layer forms a strong bond between any type of media, including metal, PPSU, and coated surfaces. The 0.2-in. x 0.2-in. PPSU film is then laminated with a top layer of the Structobond epoxy. After the curing process the top layer protects the printed data.
On its own, Radel PPSU film can withstand repeated chemical disinfection and more than 1,000 autoclave steam sterilization cycles while maintaining excellent toughness and impact resistance. Recent tests targeting the polymer's performance in S+P Samson's medical application indicate that the three-layer construction withstood more than 700 autoclave cycles with no delamination. The cycles include disinfection using acid and alkaline sterilants, ultrasonic cleaning, and temperatures up to 273°F at a pressure of 2 bar. Solvay's high-performance thermoplastic film also provides critical tear propagation performance up to 130 G force (1.275 N).
Companies in this article