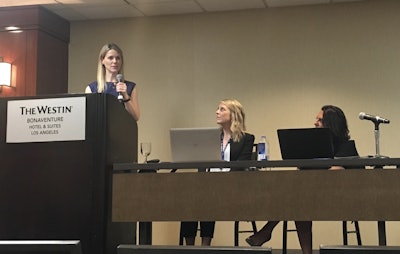 Last week's North American Cannabis Summit in Los Angeles delivered some often-overlooked medical marijuana information, along with its signature policy, legal and health topics.
Why medical needs to stay
"Once there's recreational marijuana in a state, why keep medical?" It's fairly common to hear this perspective, and in some states, the stats do show that the number of medical dispensaries decreases when recreational comes onboard.
But a nurse, a pharmacist and a doctor from Canada spoke—from the perspective of the second country to legalize cannabis—with a strong hope that medical and recreational streams remain separate.
The following experts presented at the Summit, and identified a large gap in the system: Cannabis (even medical cannabis) is still separate from the healthcare system.
Ashley Chisholm, MSc, Research and Policy Advisor at the Canadian Nurses Assn.

Dr. Shelita Dattani, Director of Practice Development and Knowledge Translation at the Canadian Pharmacists Assn.

Caroline MacCallum, MD, FRCPC at Greenleaf Medical Clinic
Healthcare providers have no oversight into whether a patient is using cannabis in addition to their medications. The way that the system is set up, there's no opportunity for counseling from medical experts at the time of dispensing.
In the province of Ontario, nurses are allowed to administer cannabis to patients, but many abstain due to stigma or lack of training on the subject. Additionally, cannabis education has not been integrated into medical school. If doctors and medical practitioners are not trained, how can the treatment become mainstream?
Dangerous tapering
Another major concern for Canadian healthcare providers is that patients may obtain recreational or medical marijuana and try to self-taper from opioids using cannabis. Without doctor supervision, this can be very dangerous, especially if they suddenly halt their opioid use.
App helps patient adherence
Dr. MacCallum mentioned an app called Strainprint for medical cannabis users. With the patient's consent, the doctor can see their progress and monthly reports. The app will prompt the user at intervals after a dose (such as 20 minutes or 2 hours) to ask them how they are feeling to help create a log of dosing and effects to see progress over time. If a patient is looking for migraine relief, but they note that their anxiety became worse, that may signal to the patient and provider to consider trying a new strain.
Delivery creates tension
The state of California legalized cannabis delivery, even for cities and counties that do not have cannabis access. William Perno, Prevention Specialist and Retired San Diego County Deputy Sheriff, and Leslie Zellers, JD, Consultant in Public Health Law & Policy, explained that this rule creates issues: How do you regulate/enforce the law with these deliveries? Will companies circumvent a city's high taxes or stricter regulations by setting up shop in a neighboring town and offering delivery?
When California cannabis regulators presented, they said that, in essence, they wanted the products to be accessible to patients regardless of what city or county they live in, though they recognize the issues that home delivery may bring. Patients may have mobility or transportation issues, and delivery allows them to obtain products at home.
Cannabis is not necessarily a silver bullet for the opioid crisis
The studies haven't separated the positive effects of cannabis legalization from other concurrent efforts to fight opioids. "Cannabis seems to be really important in reducing opioid harm, but we cannot rule out yet that some of this is due to opioid-related policy on the state, federal and healthcare level," said Rosalie Pacula, Ph.D., Senior Economist and Co-Director of the Drug Policy Research Center, RAND Corporation.
As an example, just the act of changing the default in the medical record to prescribe an opioid for seven days instead of 30 days made a big difference.
Cities make rules, dispensaries get creative
When California legalized cannabis, the state gave a fair amount of authority to cities and counties to make their own restrictions (including not allowing cannabis sales at all).
Some locales are getting inventive with daily maximums and certain signage requirements. Contra Costa county is unique in that they require a health permit for retailers.
But the dispensaries get very creative as well. To circumvent advertising restrictions on building signage, dispensaries have parked cars and pedicabs outside the shops with ads that wouldn't be legal on the walls. "It's not on the building itself so it's not illegal," said Perno. Some employ sign spinners to stand at corners and in islands with ads.
Perno noted that regulators are cracking down on look-alike products, which borrow their likeness from popular drinks and snacks such as Red Bull, Mountain Dew and Kit Kat bars.