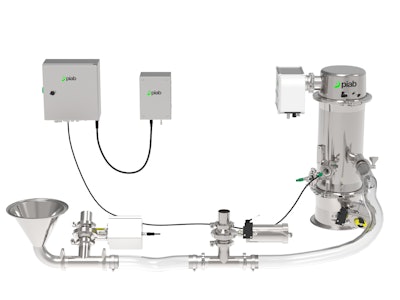 Piab, a Smart systems provider for the automation world, introduces its vacuum conveyor piFlow p Smart which is designed to have a faster changeover which would allow users to save time when changing from one material to another, in order to increase the productivity of their operations.
This product is made to be a self-optimizing vacuum conveyor targeted primarily at industries handling many different materials and/or those in which frequent changes need to be made. Also, piFlow p Smart is made to be used in food and pharma sectors.
The piFlow p Smart is designed to use machine learning to automatically tune the process after each next cycle by configuring and optimizing a flow of materials, and try to set them at the correct rate. This is meant to eliminate the need for operators to re-adjust settings between different batches of materials.
Piab's piFlow p Smart is a stand-alone system that has been designed to cater for a wide range of different powders and granules. Sensors assist the conveyor's auto-tuning system to control and fine-tune in accordance with environmental conditions, such as temperature and humidity that affect the properties of the conveyed material. This should eliminate the need for manual adjustments at the feed point. The filling level is also meant to be constantly monitored by two level sensors safeguarding against filter damage.
This product is further made to require a minimal amount of maintenance and be easily installed and operated.
Companies in this article