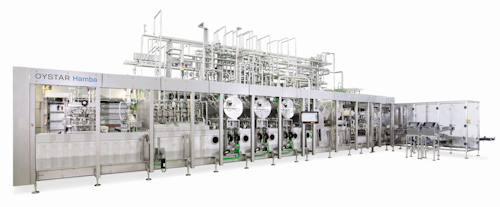 Oystar USA—whose parent company, Oystar Group, develops and manufactures both complete packaging lines and individual machines for the dairy and food industries—provides a complete line of aseptic packaging equipment and services to food and dairy processors, resulting in extended shelf life for food and beverage products. Equipment includes machines that sterilize packaging material, as well as those that sterilize filling systems and filling and sealing areas. These aseptic packaging systems meet international hygiene standards, including those mandated by the FDA.
Oystar USA's portfolio of aseptic packaging solutions encompasses filling/sealing cup fillers with a capacity of 57,000 cups/hr; f/f/s cup fillers with a capacity of more than 90,000 cups/hr; and stick-pack pouch fillers that can produce up to 36,000 packages/hr.
The company also has broad expertise in sterilization methods using peroxide (bath, spray and vapor), as well as in physical sterilization methods such as dry heat, steam sterilization, use of light sources, plasma and E-beam. End-of-line equipment that handles secondary and tertiary packaging operations is also available.
Oystar Group's current aseptic filler installations range from single machines to complete lines, and from standard models to customized solutions. Installations are complemented by a full range of customer support services, including on-site training, inspections, and maintenance.
Oystar Group's machines are used to package nutraceutical products, such as probiotic yogurts. Oystar also offers in-mold labeling on aseptic f/f/s machines. Recent developments in Oystar USA's aseptic packaging capabilities include the following:
• Half-tunnel Concept—Oystar Group offers equipment that incorporates small aseptic zones, thereby eliminating the need to house aseptic filling machinery in large clean rooms.
• Green Aseptic—Oystar Group continuously refines its aseptic packaging solutions to reduce energy, packaging and chemical use. This includes using physical sterilization methods, like steam sterilization, to sterilize polypropylene material for aseptic filling.
• Short-run Aseptic Filling—Oystar Group has developed an aseptic pilot filling machine for limited runs of preformed cups.
• Aseptic swirling—In response to specific customer demands, Oystar now offers aseptic filler nozzles for two-flavor products with patterning.
Companies in this article