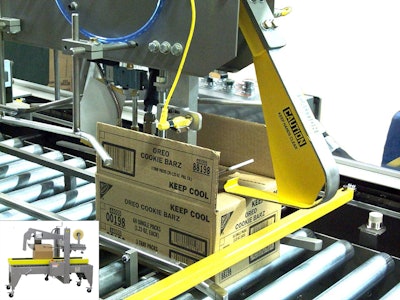 Eagle Packaging Machinery's EZTAPE sealing solutions are designed to reduce time that is wasted when manually sealing cases. Units are tailored to fit the needs of the operator by offering models with either automatic or semi-automatic controls.
Ideal for small and growing companies, the EZTAPE is available in two semi-automatic models: CS12 and CS-12H. The CS-12 version is typically used for taping standard cases, while the CS-12H case sealer is ideal for heavy, tall, and narrow cases. Both models require an operator to manually fold all flaps prior to the case entering the tape sealer. However, for complete automation, Eagle offers the CSA12 model that eliminates the operator having to fold the flaps before the case enters the sealer, which essentially helps them increase their overall production rates.
All EZTAPE sealers come equipped with heavy-duty side-belt drives and side-mounted rollers that ensure square cases and tight seals. All models are capable of applying tape to both the bottom and top of the cases. Equipped with a tool-less tape head, this feature permits operators to easily remove tape cartridges allowing for an accurate and consistent sealing process.
Companies in this article