Photo courtesy of RDS
For manufacturers, the continual need to increase production speed and efficiency while reducing labor has spurred a shift toward implementing more automated systems. However, off-the-shelf equipment will not accommodate every application. Especially those that are complex with robots and conveyors, as well as a host of equipment for manufacturing and assembly in addition to packaging, labeling, and palletizing, which must be flawlessly coordinated.
"While implementing off-the-shelf solutions can be a starting point for some projects, automating and incorporating robotics frequently requires a custom solution that meets very specific process requirements. For this reason, even large suppliers in this space will often pass on opportunities if they are not easily resolved," says Leon Gurevich, founder and chief technology officer of Rapid Development Services (RDS), an industrial automation equipment builder and integrator.
According to Gurevich, to avoid delays or failure on larger, more complex projects, it is particularly important to work with a supplier that not only has automation expertise but is also nimble and flexible.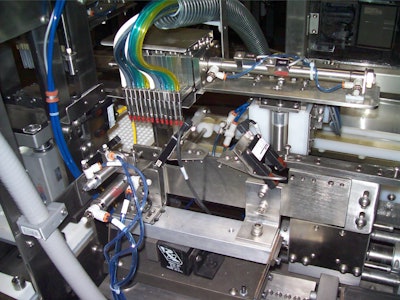 "When it comes to automating production, equipment can range from very small to complete lines several hundred feet long that can consist of robots, conveyors, vision systems, servo drives, etc.," says Gurevich, who has worked with companies such as Medtronic, Johnson & Johnson, Abbott Labs, and Pfizer. "So, automation suppliers and integrators need a 'tool box' full of solutions including the ability to design and build from scratch in order to fit together all the pieces of the puzzle."
For example, after a major medical device manufacturer received FDA approval of a real-time insulin pump for continuous glucose monitoring, the company needed to automate production with specific attention to packaging.
RDS was called on to develop an automatic system to package insulin reservoir syringes into a Multivac form/fill/seal (f/f/s) machine, followed by carton and case packing for ready-to-ship product delivery.
---
---
The reservoir syringe was presented to the system in a bulk form. The robotic system utilizes vision inspection to check for the presence of subcomponents before placing reservoir syringes into the Multivac machine's formed web cavities. The vision inspection identified the presence of the plunger, guard, and overall geometry pattern of syringes by inspecting a set of 10 units per cycle. The system used two six-axis robots, two vibro-feed bowls, and the Multivac web machine to feed, pick, place, and seal reservoir syringes.
With the robotic system, each of two cells packaged product at a rate of over 120 reservoirs per minute, for a total of 240 units per minute. The packaging system also had a carton erector, and the sealed packages were robotically inserted into cartons.
RDS initially installed the system in a California plant, which ran the robotic system trouble-free in a clean room for more than five years. At the company's request, RDS disassembled, moved, reinstalled, and started up the system at a new facility in Puerto Rico, where it has continued to run trouble-free three shifts per day for another 10 years, according to the company.
---
---
In addition, RDS partnered with Multivac to provide engineering and robotic integration services for multiple projects for both medical device and consumer cosmetics applications.
The company has built robotic part handling and unloading systems to load parts into a thermoformed web of the Multivac f/f/s machines, and to unload form, filled, sealed packages and pack parts into cartons and cases after the Multivac machines perform their functions.
"In RDS's partnership with Multivac, we have utilized proprietary technologies for feeding, staging, and loading an array of parts per each machine cycle with up to 60 parts per pick with a single robot," says Gurevich. "The solution allows one robotic cell with a single six axis robot to place parts into Multivac at rates of up to 800 per minute."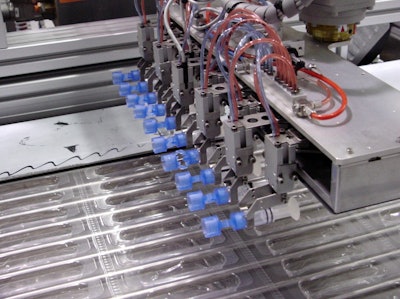 According to the market research and consulting company Grand View Research, the global medical automation market is expected to grow at a compound annual growth rate of 9.9% from 2016 to 2024 to reach $79.4 billion by 2024. The company cites the rising prevalence of chronic diseases and the increasing adoption of automated equipment for diagnosis and therapy as the factors propelling market growth.
So, whether packaging device manufacturers need help automating their production, or the equipment used in other settings, partnering with an expert in automation can be the surest route to ensuring compliance, reliability, and efficiency.
"Companies sometimes shy away from automation when only focusing on direct labor savings or short-term ROI," concludes RDS president Sunit Mishra. "However, if you factor in increased production speeds and improved quality along with reduced waste, labor management savings, labor hiring and training savings, as well as repetitive motion injury, the investment in automation usually provides an attractive ROI in the short term itself."
Companies in this article