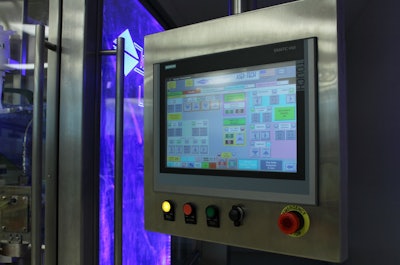 By the summer of 2019, Weiler Engineering, Inc. expects to conduct Factory Acceptance Testing on its new LAB+ ASEP TECH Blow/Fill/Seal (B/F/S) machine.
Officially introduced at ACHEMA 2018, the compact laboratory-sized machine measures approximately 96-in. H x 75-in. W x 94-in. D. (123-in. W with standard scrap conveyor option.) "It is a brand-new piece of equipment designed specifically for laboratory, small-scale production, clinical trials, 503b drug shortages, vaccines, and biologics," explains Joe Immordino, Weiler's Director of Engineering. "Its small footprint and a few patent-pending applications will make this machine unique to the BFS industry. It also incorporates all servo-motor motion controls and a new Siemens 1500 portal PLC platform."
Beyond its space-saving attributes, the B/F/S unit addresses seemingly nonstop advances in biologics and combination product therapies. Says Immordino, "Change is inevitable, and in order to keep pace with the advances in technology, it was paramount to address the growing needs of biologics by developing a machine that offers both conventional and single-use technology (SUT) filling systems. The increased level of controls needed to ascertain compliance of more sensitive formulations was taken into account during the selection of the controls platform to assure future compatibility." Clean-in-Place and SIP configurations are standard.
Immordino continues: "The pace of technological change has been steadily increasing such that a multitude of innovations have been used to improve our equipment design. Computer-aided drafting coupled with simulation and change control are still at the core of the engineering process, while 3D printers and laser-based technologies are becoming more prevalent on the design end. Sharing 3D electronic design information between engineers, vendors, manufacturers, quality control, assemblers, and technicians has improved the communication process between stakeholders."
Integrating automation
Automation and controls are central to the machine's efficiency. Immordino explains, "From the onset, we recognized a gap in the pharmaceutical packaging market, which required that we start from a clean [slate]. To achieve our goals, we had to leverage the latest software and hardware platforms available from Siemens," a company he describes as a global powerhouse in the areas of electrification, automation, and digitization.
"We had to rethink our conventional mechanical approach to properly integrate the new technology," says Immordino, "and along the way we came up with several novel (patent-pending) mechanical systems, which raised the bar in B/F/S technology."
Specifically, he points to the machine's all-electric modular design that's suitable for clinical trials and short-run aseptic production. In addition to electromechanical and control innovations, Weiler and Siemens built in higher-level connectivity options such as remote SCADA, PM Control/21CFR compliance, Industry 4.0/Mindsphere, and remote diagnostics/programming support.
At the core of the controls system is Siemens' Totally Integrated Automation (TIA) Portal software and hardware. This architecture affords Weiler the flexibility to create a versatile and modular machine that also satisfies the myriad of compliance requirements that exist in pharmaceutical and biologics industries.
"Every onboard system is fully electrified and controlled such that all settings required to manufacture a particular container can be monitored, saved, and uploaded/downloaded," notes Immordino. "The ability to fully characterize all operational variables allows us to transfer a 'recipe' from one to any other Lab+ machine and fully replicate a container configuration, precluding the need for additional manual adjustments."
Weiler's decision on which controls technology platform to use with its new B/F/S machine came down to "recognizing the unparalleled global support provided by Siemens," he says, noting it's "a highly coveted asset to our worldwide customer base. Our marketplace expects the pharmaceutical equipment we manufacture to be of the utmost quality and characteristic robust design, but these by no means eliminate the need for periodic service. Our selection of Siemens as a controls vendor was a crucial factor in satisfying the need to support our customers locally."
Companies in this article